Molecular Flow Module
Simulare flussi di gas a bassa pressione nei sistemi sotto vuoto con il Molecular Flow Module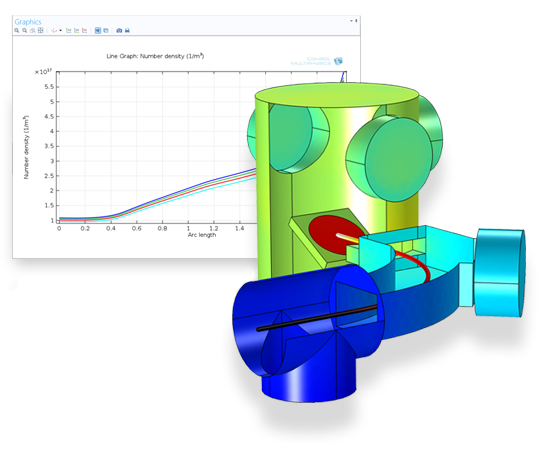 Comprensione e previsione dei flussi molecolari liberi
Ingegneri e scienziati del vuoto utilizzano il Molecular Flow Module per progettare sistemi a vuoto e per comprendere e prevedere i flussi di gas a bassa pressione. L'uso di strumenti di simulazione nel ciclo di progettazione è diventato sempre più diffuso in quanto questi strumenti migliorano la comprensione, riducono i costi di prototipazione e accelerano lo sviluppo. I sistemi a vuoto sono solitamente costosi da prototipare. Pertanto, un maggiore uso della simulazione nel processo di progettazione può portare a notevoli risparmi sui costi. I flussi di gas che si verificano all'interno dei sistemi a vuoto sono descritti da una fisica diversa rispetto ai problemi di flusso dei fluidi convenzionali. A basse pressioni, il percorso libero medio delle molecole del gas diventa paragonabile alle dimensioni del sistema e la rarefazione del gas diventa importante. I regimi di flusso sono classificati quantitativamente attraverso il numero di Knudsen (Kn), che rappresenta il rapporto tra il percorso libero medio molecolare e la dimensione della geometria del flusso dei gas:
| Tipo di flusso | Numero di Knudsen |
| --- | --- |
| Flusso continuo | Kn < 0.01 |
| Flusso di scorrimento | 0.01 < Kn < 0.1 |
| Flusso di transizione | 0.1 < Kn < 10 |
| Flusso molecolare libero | Kn > 10 |
Mentre il Microfluidics Module è utilizzato per la modellazione dello scorrimento e dei flussi continui, il Molecular Flow Module è progettato per simulare accuratamente i flussi nel regime di flusso molecolare libero. Storicamente, i flussi in questo regime sono stati modellati con il metodo di simulazione diretta Monte Carlo (DSMC). Questo metodo calcola le traiettorie di un gran numero di particelle randomizzate attraverso il sistema, ma introduce rumore statistico nel processo di modellazione. Per i flussi a bassa velocità, come quelli che si incontrano nei sistemi a vuoto, il rumore introdotto da DSMC rende le simulazioni impossibili.
Altre immagini:
Modellazione accurata dei flussi di gas a bassa pressione e bassa velocità
Il Molecular Flow Module è stato progettato per offrire capacità di simulazione precedentemente non disponibili per la modellazione accurata di flussi di gas a bassa pressione in geometrie complesse. È ideale per la simulazione di sistemi a vuoto, compresi quelli utilizzati nella lavorazione di semiconduttori, acceleratori di particelle e spettrometri di massa. Possono essere affrontate anche applicazioni in piccoli canali (ad esempio, esplorazione di gas di scisto e flusso in materiali nanoporosi). Il Molecular Flow Module utilizza il metodo del coefficiente angolare per simulare flussi molecolari liberi allo stato stazionario, consentendo di calcolare il flusso molecolare, la pressione, la densità numerica e il flusso di calore sulle superfici. La densità numerica può essere ricostruita su domini, superfici, bordi e punti del flusso molecolare sulle superfici circostanti. È possibile modellare i flussi molecolari isotermi e non isotermi e calcolare il contributo del flusso di calore dalle molecole di gas.
Caratteristiche del Prodotto
Flussi molecolari liberi
Flussi isotermi e non isotermi usando il metodo del coefficiente angolare
Possibilità di discretizzare l'intero dominio di flusso o solo le superfici
Ricostruzione delle densità di numero per unità di volume di flussi molecolari liberi
Flussi diffusi, evaporazione, flusso molecolare e condizioni per bacino
Condizioni al contorno per vuoto totale e pompe per vuoto
Condizioni al contorno per la temperatura in flussi non isotermi
Condizioni al contorno di parete per outgassing, adsorption/desorption, e deposizione
Flussi di transizione
Flussi isotermi usando l'equazione di Boltzmann BGK impiegando una forma modificata del metodo Discrete Velocity/Lattice Boltzmann
Condizione di parete solida applicabile attraverso tutto il range di numeri di Knudsen
Opportune condizioni al contorno per i regimi di Navier Stokes di flusso molecolare per consentire al fluido di entrare o uscire dal dominio di calcolo
Campi di Utilizzo
Sistemi per vuoto
Apparecchiature per il trattamento dei semiconduttori
Apparecchiature per il trattamento dei materiali
Spettrometri di massa
Acceleratori di particelle
Esplorazione di gas da argilla
Flussi in nanopori
Innovative Thermal Insulation Techniques Bring Vaccines to the Developing World
D. Gasperino, O. Yildirim Intellectual Ventures, WA, USA
When medical professionals transport vaccines, their cargo needs to be kept at a cool temperature. This limits their ability to travel to regions where there is not enough electricity. Intellectual Ventures' Global Good program designed a thermos-like container that is powered by ice and keeps vaccines cool for long periods of time. They used ...
Ogni esigenza di business e di simulazione è diversa. Per valutare se il software COMSOL Multiphysics® soddisfa o meno le vostre esigenze, non dovete fare altro che contattarci. Parlando con uno dei nostri tecnici commerciali, riceverete consigli personalizzati ed esempi completamente documentati per aiutarvi a ottenere il massimo dalla vostra valutazione e guidarvi a scegliere l'opzione di licenza migliore per soddisfare le vostre esigenze.
Basta cliccare sul pulsante "Contatta COMSOL", inserire i propri contatti ed eventuali commenti o domande specifiche, e inviare la richiesta. Riceverete una risposta entro un giorno lavorativo.
Il prossimo passo?
Richiedi una dimostrazione del software