Multibody Dynamics Module
Multibody Dynamics Module
Per l'analisi di sistemi di corpi rigidi e deformabili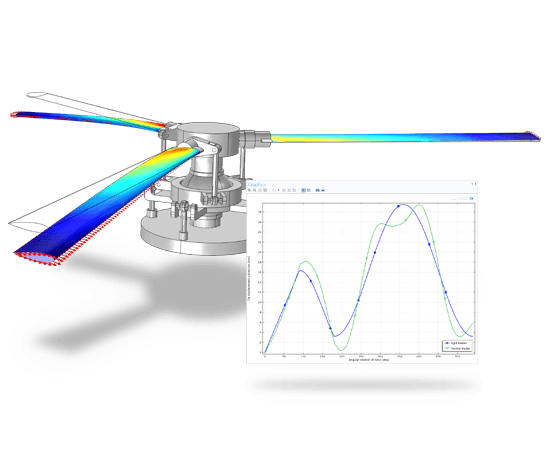 Analisi del piatto oscillante che controlla l'orientamento delle pale del rotore di un elicottero. L'analisi transitoria di sistemi con pale rigide e deformabili permette di quantificare la deformazione delle pale o la forza di sollevamento.
Strumenti per progettare e ottimizzare i sistemi multibody
Il Multibody Dynamics Module è un'espansione dello Structural Mechanics Module e offre una serie avanzata di strumenti per la progettazione e l'ottimizzazione di sistemi multibody in meccanica strutturale mediante l'analisi agli elementi finiti (FEA). Il modulo consente di simulare sistemi misti di corpi rigidi e deformabili, dove ogni corpo può essere soggetto a grandi spostamenti rotazionali o traslazionali. Queste analisi consentono di identificare i punti critici di un sistema multibody, fornendo quindi indicazioni per analisi strutturali più dettagliate a livello di componente. Il Multibody Dynamics Module offre anche la possibilità di analizzare le forze che interessano alcuni componenti della struttura e gli sforzi che si sviluppano nei componenti deformabili che possono condurre a un cedimento a causa di grandi deformazioni o di fatica.
Sfruttare una libreria di giunti
Il modulo comprende una libreria di giunti predefiniti che agevola la descrizione delle relazioni tra i diversi componenti di un sistema multibody, dove i componenti sono interconnessi in modo tale da conservare la possibilità di moto relativo. I giunti collegano due componenti tramite attacchi, così che un componente sia libero di muoversi autonomamente nello spazio mentre l'altro sia vincolato a un movimento specifico a seconda del giunto. Le tipologie di giunto nel Multibody Dynamics Module sono generiche al punto da poter modellare ogni tipo di collegamento. Si possono quindi progettare con precisione modelli di meccanica strutturale multicorpo utilizzando i seguenti tipi di giunto:
Altre immagini:
Orientamento del movimento di giunti prismatici, cilindrici, cardini e viti.
Orientamento del movimento di giunti planari, sferici, a scorrimento e a scorrimento parziale
Flessibilità completa nell'analisi di sistemi multibody
I componenti di un sistema che subiscono deformazioni possono essere modellati come deformabili, mentre altri componenti, o anche parti di questi componenti, possono essere descritti come rigidi. È inoltre possibile includere materiali non lineari in un progetto e nelle analisi cinematiche multicorpo combinando i modelli nel Multibody Dynamics Module con il Nonlinear Structural Materials Module o il Geomechanics Module. Allo stesso tempo, gli altri fenomeni fisici modellati con COMSOL Multiphysics e la suite di moduli specifici per le varie applicazioni, possono essere accoppiati alla fisica descritta dal Multibody Dynamics Module, come ad esempio nel caso degli effetti di scambio termico o dei fenomeni elettrici.
E' possibile eseguire vari tipi di analisi dei cinematismi multibody: transitoria, nel dominio delle frequenze, determinazione delle frequenze proprie e analisi stazionarie. Si possono assegnare ai giunti molle lineari/torsionali con proprietà di smorzamento, forze e momenti applicati e movimento imposto come funzione del tempo. Le funzionalità di analisi e post-processing includono:
Spostamento/rotazione relativa tra due componenti e le rispettive velocità

Forze e momenti di reazione vincolare su un giunto

Sistemi di riferimento in coordinate globali e locali

Sforzi e deformazioni nei corpi deformabili

Analisi a fatica di corpi deformabili critici in combinazione con il Fatigue Module
Prismatico (3D, 2D)
Cardine (2D, 3D)
Cilindrico (3D)
Vite (3D)
Planare (3D)
Sferico (3D)
A scorrimento (3D)
A scorrimento parziale (3D, 2D)
Spesso il movimento tra due componenti è limitato dalla presenza o dalle funzioni di altri oggetti fisici. È possibile specificare vincoli limitanti e condizionali del moto relativo dei giunti, per modellare e definire in modo completo questi sistemi complessi. Ad esempio, in robotica il moto relativo tra due bracci può essere definito come una funzione predefinita del tempo. I giunti possono inoltre essere associati a molle e il Multibody Dynamics Module permette anche di definire eventuali fattori di smorzamento.
Multibody Dynamics Module
Product Features
Joints can be constrained to restrict the relative motion between the two connected components
Joints can be locked to freeze the relative motion between the two connected components at the specified value
Spring conditions can be applied on the relative motion at a joint, either at the equilibrium or with pre-deformation
Damping or dashpot conditions can be defined to specify losses on the relative motion at a joint
Joints can be required to prescribe the relative motion between the connected components
Forces and moments can be applied to all types of joints at the attachments to the components
Mechanisms can be initialized to translate and rotate rigidly with the given velocities about the specified center of rotation
---
Application Areas
Aerospace
Automotive
Engine dynamics
Mechatronics
Robotics
Biomechanics
Biomedical instruments
Vehicle dynamics
General dynamic simulations of mechanical assemblies
Multibody Analysis Tutorial
The video has the following chapters:
Multibody Dynamics Module
Modeling of a Gyroscope
This model illustrates the working of a gyroscope used to measure or maintain an orientation. Its operation is based on on the principles of conservation of angular momentum. In this model, all the components are modeled as rigid bodies. Hinge joints are used to establish a connection between different parts. The orientation of the spinning disc ...
Helicopter Swashplate Mechanism
This model illustrates the operation of a swashplate mechanism used in helicopters to translate the input of helicopter flight control into the motion of the rotor blades, and hence controls the orientation of the rotor blades. In this model, the rotor blades are modeled as either rigid bodies or flexible bodies in two different cases. All other ...
Mechanical Assembly with Hinge Joint
This example illustrates how to model a barrel hinge connecting two solid objects in an assembly. In this model, the details of the connection are not the focus of the analysis, therefore, the hinge joint is modeled using a Joint feature in the Multibody Dynamics Module. The connected parts can be either rigid or flexible or a combination as shown ...
Three-Cylinder Reciprocating Engine
In this example, a dynamic analysis of a three-cylinder reciprocating engine is performed to investigate stresses generated during operation, thereby permitting identification of the critical components. Demand for high power output relative to the weight of the engine requires careful design of its components. This model of a reciprocating ...
Stresses and Heat Generation in a Landing Gear Mechanism
This model simulates the dynamics of the shock absorber used in a landing gear mechanism of an aircraft. It analyses the stresses, as well as the heat generated in the landing gear components due to the energy dissipated in the shock absorber. A prismatic joint, with spring and damper, is used to model the shock absorber assembly.
Dynamics of a Double Pendulum
This is a tutorial model that shows how to model a hinge joint and use additional functionality including constraints, locking, spring-damper and prescribed motion. The model illustrates the nonlinear dynamics of the double pendulum. Locus of the tip of the lower arm and the phase space curve are plotted to demonstrate the chaotic behavior ...
Spring Loaded Centrifugal Governor
A centrifugal governor is used to control the speed of rotating machinery. One of the most common applications is in controlling the RPM of an engine by regulating the fuel supply. This model illustrates the functioning of a spring loaded centrifugal governor. The dynamics of the governor are analyzed under the influence of a centrifugal ...
Slider Crank Mechanism
This is a benchmark model to test the numerical algorithms in the area of multibody dynamics. This model simulates the dynamic behavior of the slider crank mechanism. This mechanism goes through singular positions during its operation. The acceleration at a point is compared with the results from the reference.
Dynamic Behavior of a Spring Loaded Rotating Slider
This model illustrates the modeling of slider motion caused by a base rotation. The motion of the slider is analyzed under various forces such as inertia force, centrifugal force, spring force and damping force. The prismatic joint, which is used to connect the two components, is spring loaded and also includes damping effects. The motion of ...
Modeling of a Gyroscope
Helicopter Swashplate Mechanism
Mechanical Assembly with Hinge Joint
Three-Cylinder Reciprocating Engine
Stresses and Heat Generation in a Landing Gear Mechanism
Dynamics of a Double Pendulum
Spring Loaded Centrifugal Governor
Slider Crank Mechanism
Dynamic Behavior of a Spring Loaded Rotating Slider