Electrochemistry Module
Per modellare applicazioni di elettroanalisi, elettrolisi ed elettrodialisi.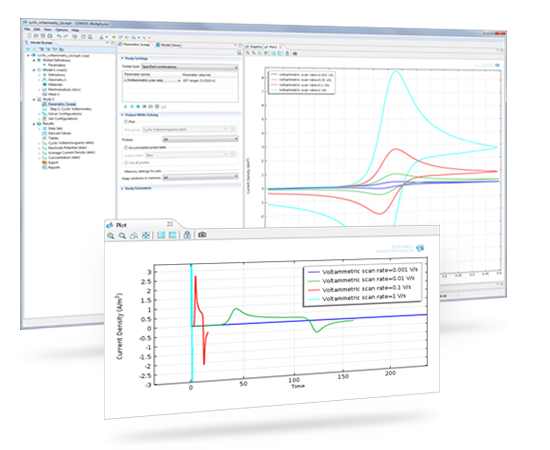 La voltammetria ciclica è una tecnica comune per l'analisi elettrochimica in cui si applica il potenziale dell'elettrodo di lavoro su un intervallo di tensione mentre si registra la corrente.
Dal ricercatore di laboratorio all'ingegnere elettrochimico
L'Electrochemistry Module amplia le possibilità di progettazione, comprensione e ottimizzazione di sistemi elettrochimici attraverso simulazioni precise. Questo prodotto offre un vantaggio significativo ai ricercatori di laboratorio e agli ingegneri elettrochimici. Le sue funzionalità, quali la modellazione dei meccanismi di reazione elettrochimica, il trasporto di massa e le distribuzioni della densità di corrente, consentono di generare simulazioni efficaci per numerose applicazioni, tra cui elettrolisi, elettrodialisi, elettroanalisi, sensori elettrochimici e bioelettrochimica.
Interfacce per la Distribuzione di Corrente Primaria, Secondaria e Terziaria
L'Electrochemistry Module soddisfa un'ampia gamma di applicazioni che comprendono reazioni elettrochimiche, attraverso interfacce per la distribuzione di corrente primaria, secondaria e terziaria, elettroanalisi, flusso in mezzi liberi e porosi, trasferimento termico, reazioni chimiche eterogenee e omogenee e trasporto di materiali in soluzioni diluite e concentrate. Le possibili applicazioni di questo strumento comprendono lo studio e lo sviluppo di elettrolisi cloro-soda e clorata, elettrolisi dell'acqua per la produzione di idrogeno e ossigeno, trattamento delle acque reflue, desalinizzazione dell'acqua marina, studi elettrochimici fondamentali in elettrocatalisi ed elettroanalisi e sensori per glucosio, pH, idrogeno e altri gas.
Altre immagini:
Distribuzione di corrente secondaria in una cella cloro-soda.
È possibile modellare la densità di carica in doppi strati diffusi (DDL) senza dover assumere la neutralità della carica, accoppiando l'equazione di Poisson del potenziale alle equazioni di Nernst-Planck del trasporto di ioni.
Diagramma di Nyquist per un intervallo di frequenze e costanti di velocità cinetica eterogenea dell'elettrodo.
Interfacce per l'analisi elettrochimica
Le funzioni dedicate dell'Electrochemistry Module consentono di simulare studi di amperometria, potenziometria, impedenza elettrochimica e coulombometria, oltre a un'interfaccia prevista appositamente per la voltammetria ciclica. Proprietà come la densità di corrente di scambio, i coefficienti di trasferimento di carica, le specifiche aree di superficie attive, la diffusività e i meccanismi di reazione possono essere determinate dai risultati combinati dell'esperimento e della simulazione. Questi risultati possono quindi essere utilizzati in applicazioni industriali per una corretta modellazione e per l'ottimizzazione del progetto.
Supporto completo per applicazioni che comprendono reazioni elettrochimiche
Le interfacce integrate nell'Electrochemistry Module consentono di modellare vari sistemi considerando le distribuzioni di corrente primaria, secondaria o terziaria. La distribuzione di corrente primaria utilizza la legge di Ohm insieme a un bilanciamento della carica per modellare il flusso di corrente nell'elettrolita e negli elettrodi, postulando perdite trascurabili del potenziale elettrico dovute alle reazioni elettrochimiche. La distribuzione della corrente secondaria comprende queste perdite per reazione ed è modellata attraverso interfacce per le equazioni di Tafel e di Butler-Volmer. Queste interfacce supportano anche la modifica e la personalizzazione delle espressioni. Le interfacce comprendono il potenziale elettrico come parte della cinetica di reazione elettrochimica.
La concentrazione dell'elettrolita non è costante in molti sistemi reattivi e in stretta prossimità agli elettrodi. In tal caso, oltre alla migrazione, devono essere considerati anche gli effetti di diffusione e convezione. L'Electrochemistry Module offre un'interfaccia per le distribuzioni di corrente terziaria, che utilizza l'equazione di Nernst-Planck per descrivere il trasporto delle specie chimiche nell'elettrolita. Utilizzando le funzionalità contenute in COMSOL Multiphysics, questa interfaccia può essere abbinata senza soluzione di continuità ad altre interfacce di fluidodinamica e trasferimento termico.
Electrochemistry Module
Product Features
Analyze primary and secondary current density distribution, assuming constant electrolyte conditions
Model electrochemical reaction kinetics through the Tafel and Butler-Volmer equations
Simulate tertiary current density distribution, utilizing the Nernst-Planck equation, assuming electroneutrality
Support for temperature-dependent ionic migration through the Nernst-Einstein relation
Analyze the electrochemical behavior of porous electrodes, with correction factors for effective conductivities
Support for Bruggeman conductivity corrections, utilizing electrolyte volume fraction
Support for considering double layer capacitance in electrode kinetics in addition to limiting current densities
Easily include potential drops at electrode-electrolyte interfaces due to film resistance
Include harmonic perturbation for AC Impedance studies and reference potentials for other electroanalytical applications
Easily include supporting electrolyte conditions for electroanalysis
Species transport, heat transfer, and fluid flow in free and porous media
Support for surface catalytic reactions where species can be transported across surfaces
Nyquist and Bode plots from AC Impedance
---
Application Areas
Electroanalysis
Electrolysis
Electrodialysis
Electrochemical sensors
Bioelectrochemistry
Glucose sensors
Gas sensors
Chlor-alkali electrolysis
Hydrogen and oxygen production
Desalination of seawater
Ultra-pure water production
Electrolyte waste treatment
pH control of liquid foods
Control of electrochemical reactions in biomedical implants
Modeling Chemical Applications
The application of modeling to chemical engineering is a cost-efficient way to explore new designs of systems and processes. COMSOL has been developing its capabilities with the chemical processes and engineering for over 10 years now. By using modeling, the engineer can achieve the understanding and intuition required for further innovation, and increase efficiency. A main feature of COMSOL is the symbolic and interpreted interfaces that allows you to define whatever you like, such as chemical and electrochemical reactions, or kinetic, thermodynamic, or transport expressions.
Electrochemistry Module
Modeling the Electrochemistry of Blood Glucose Test Strips
Stephen Mackintosh
Lifescan Scotland
UK
Lifescan Scotland is a medical device company that designs and manufactures blood glucose monitoring kits for the global diabetes market. These involve the self-monitoring of blood glucose levels through specialized monitoring systems and test strips that comprise of a plastic substrate, two carbon-based electrodes, a thin dry reagent layer, and a ...
Modeling the Electrochemistry of Blood Glucose Test Strips
Modeling the Electrochemistry of Blood Glucose Test Strips
Stephen Mackintosh Lifescan Scotland UK
Lifescan Scotland is a medical device company that designs and manufactures blood glucose monitoring kits for the global diabetes market. These involve the self-monitoring of blood glucose levels through specialized monitoring systems and test strips that comprise of a plastic substrate, two carbon-based electrodes, a thin dry reagent layer, and a ...
Electrochemistry Module
Current Density Distribution in a Solid Oxide Fuel Cell, AC Impedance Study
This model presents a study of the current density distribution in a solid oxide fuel cell (SOFC). The model includes the full coupling between the mass balances at the anode and cathode, the momentum balances in the gas channels, the gas flow in the porous electrodes, the balance of the ionic current carried by the oxide ion, and a balance of ...
Electrochemical Impedance Spectroscopy
Electrochemical impedance spectroscopy (EIS) is a common technique in which a small oscillating perturbation in cell potential is applied to an electrochemical system so as to interrogate the kinetic and transport properties. The Electroanalysis interface is used with a frequency domain study to simulate EIS for a range of electrode reaction ...
Model of a Diffuse Double Layer
In the diffuse double layer and within the first few nanometers of an electrode surface, the assumption of electroneutrality is not valid due to charge separation. Typically, the diffuse double layer may be of interest when modeling very thin layers of electrolyte including those in electrochemical capacitors and microelectrodes. This example ...
Desalination of Water Using Electrodialysis
Electrodialysis is a separation process for electrolytes based on the use of electric fields and ion selective membranes. Some common applications of the electrodialysis process are: - Desalination of process streams, effluents, and drinking water - pH regulation in order to remove acids from, for example, fruit juices and wines - Electrowinning ...
Current Distribution in a Chlor-Alkali Membrane Cell
The chlor-alkali membrane process is one of the largest in industrial electrolysis with the production of roughly 40 million metric tons of both chlorine and caustic soda per year. Chlorine is used predominantly for the production of vinyl chloride monomer, which in turn is used for the production of poly vinyl chloride (PVC). Current density in ...
Electrochemical Treatment of Tumors
This model incorporates the transport and electrolytic reaction in the treatment of tumor tissue. Oxygen evolution at the anode produces protons, which lowers the pH, while chlorine production also leads to lowered pH through the hydrolysis of chlorine. One effect of a low pH is the permanent destruction of haemoglobin in the tissue, resulting ...
Electrochemical Cell with Wire-Mesh Electrode
The electrochemical cell shown in this model can be regarded as a unit cell of a larger wire-mesh electrode that is common in many industrial processes. One of the most important aspects in the design of electrochemical cells is the current density distributions in the electrolyte and electrodes. Non-uniform current density distributions can be ...
Cyclic Voltammetry at an Electrode
Cyclic voltammetry is a common analytical electrochemical technique, where the potential at a working electrode is swept over a range and back again while the current is recorded. The current-voltage waveform, referred to as a voltammogram, provides information about the reactivity and mass transport properties of an electrolyte. For large ...
Current Density Distribution in a Solid Oxide Fuel Cell, AC Impedance Study
Electrochemical Impedance Spectroscopy
Model of a Diffuse Double Layer
Desalination of Water Using Electrodialysis
Current Distribution in a Chlor-Alkali Membrane Cell
Electrochemical Treatment of Tumors
Electrochemical Cell with Wire-Mesh Electrode
Cyclic Voltammetry at an Electrode