CFD Module
La soluzione multifisica per le simulazioni di fluidodinamica computazionale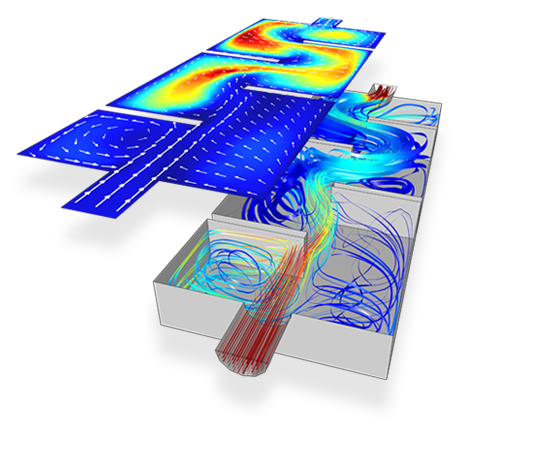 Confronto tra il campo di flusso in un'approssimazione 2D e il modello 3D di un reattore turbolento con deflettori.
Per tutte le applicazioni che coinvolgono la fluidodinamica
Il CFD Module è la piattaforma per la simulazione di dispositivi e sistemi che richiedono modelli di fluidodinamica sofisticati. Come per tutti i moduli della suite di prodotti COMSOL, il CFD Module offre interfacce fisiche preconfigurate per ricevere i dati di input del modello nell'interfaccia grafica utente (GUI) e utilizzarli per formulare le equazioni del modello. Le interfacce fisiche specifiche del CFD Module consentono di modellare la maggior parte degli aspetti che riguardano la fluidodinamica, comprese le descrizioni di flusso comprimibile, non isotermo, non newtoniano, bifase e in mezzi porosi – tutti nei regimi di flusso sia laminare sia turbolento. Il CFD Module può essere utilizzato come strumento standard per simulare problemi di fluidodinamica computazionale (CFD) oppure in concomitanza con altri moduli della suite di prodotti COMSOL per simulazioni multifisiche in cui sia importante tener conto della fluidodinamica.
La GUI del CFD Module dà accesso a tutte le fasi del processo di modellazione, che comprendono:
Selezione della descrizione appropriata del flusso, ad esempio flusso monofase o bifase, laminare o turbolento, ecc.
Creazione o importazione della geometria del modello
Definizione delle proprietà del fluido
Aggiunta dei termini source vaganti e sink o modifica delle equazioni che descrivono il comportamento del fluido, se necessario
Selezione degli elementi per la mesh e controllo della densità della mesh in punti diversi
Selezione ed eventuale reimpostazione dei solutori
Altre immagini:
Interfacce fisiche adatte a qualsiasi tipo di flusso
Tutti i diversi strumenti per la descrizione dei flussi sono messi a disposizione in interfacce fisiche facili da usare. Queste definiscono le equazioni di conservazione della quantità di moto, massa ed energia che descrivono il flusso tenendo conto dei contributi derivanti da accoppiamenti multifisici. Inoltre, formulano una forma stabilizzata di queste equazioni, che COMSOL può utilizzare per creare la discretizzazione agli elementi finiti per lo spazio e alle differenze finite per le derivate temporali per problemi stazionari o dipendenti dal tempo. Queste formulazioni stabilizzate sono adattate alla descrizione selezionata e alle funzioni delle proprietà del fluido indicate nelle interfacce fisiche, che suggeriscono inoltre le configurazioni e le impostazioni del solutore in base al tipo di flusso descritto. Sono disponibili interfacce fisiche su misura per i seguenti tipi di flussi:
Flusso monofase: il CFD Module risolve molte varianti delle equazioni di Navier-Stokes per modellare i flussi in tutti i regimi di velocità. Ciò comprende la modellazione di fluidi a bassa velocità o Creeping Flow (flusso di Stokes), flusso laminare e debolmente comprimibile e flusso turbolento. Il flusso turbolento è modellato mediante le equazioni di Navier-Stokes mediate (RANS) e comprende i modelli di turbolenza k-ε, k-ε low-Reynolds, k-ω, SST (Shear stress transport) e Spalart-Allmaras.

È possibile modificare tutte le variabili delle equazioni di Navier-Stokes e i termini nei modelli di turbolenza, ad esempio per includere equazioni basate su variabili del modello provenienti da altre interfacce fisiche accoppiate. Sono disponibili molti strumenti aggiuntivi che possono servire nel processo di soluzione dei modelli di turbolenza. Tra questi, vi sono strumenti per specificare le funzioni di parete, mesh di strato limite, mesh ibride e altri per adattare la densità e il posizionamento della mesh.
Flusso non isotermo: le forze di galleggiamento dovute alla temperatura sono prese in considerazione di default nel flusso laminare e turbolento, se accoppiato con il trasferimento termico. Il CFD Module include interfacce multifisiche preconfigurate per il trasferimento termico non isotermo e coniugato. Il modulo supporta accoppiamenti multifisici arbitrari per definire flussi debolmente comprimibili, ossia quei flussi con numeri di Mach inferiori a 0,3.
Flusso comprimibile: il CFD Module è anche in grado di modellare flussi comprimibili aventi numeri di Mach maggiori di 0,3, dove le variazioni di temperatura causate dal trasferimento termico, dal lavoro di compressione o delle forze di attrito portano a effetti di comprimibilità significativi, come lo shock. Le funzionalità incorporate in COMSOL Multiphysics per la generazione di mesh adattive possono servire per la risoluzione di onde d'urto e di zone soggette a forti cambiamenti nel profilo delle grandezze fluidodinamiche.
Flusso bifase: sono disponibili interfacce fisiche ed equazioni per modellare il flusso bifase. Se questo comprende il tracciamento delle interfacce mobili che separano due o più fluidi immiscibili, il CFD Module utilizza i metodi Phase field e Level set.

Il CFD Module include anche le interfacce fisiche per modelli di flusso bifase disperso per descrivere i flussi contenenti sospensioni di molte particelle, goccioline o bollicine attraverso i metodi Bubbly Flow, modello di miscela e modello Euler-Euler. Quest'ultimo affronta alte concentrazioni di bolle che si scontrano continuamente e contengono variazioni significative della velocità relativa delle fasi. L'Heat Transfer Module, in aggiunta al CFD Module, comprende anche le interfacce per modellare la condensazione e l'aria umida, dove i cambiamenti di fase sono descritti mediante funzioni precostruite in COMSOL Multiphysics.
Flusso in mezzi porosi: con il CFD Module è anche possibile modellare il trasporto di fluidi monofase e bifase in mezzi porosi, utilizzando la legge di Darcy e l'estensione di Brinkman alla legge di Darcy. La legge di Darcy è adatta a quei mezzi porosi i cui pori sono abbastanza piccoli da rendere trascurabili gli effetti viscosi, in modo che il flusso sia controllato da una differenza di pressione, mentre le equazioni di Brinkman includono i termini che tengono conto degli effetti viscosi. Esiste anche una condizione interna per modellare l'interfaccia tra il flusso di canale libero e il mezzo poroso.
Macchine rotanti: le interfacce Rotating Machinery includono strumenti di modellazione per descrivere le parti rotanti che cambiano dinamicamente la geometria, come le pale di un miscelatore o le pinne di un'elica rotante in un dominio fluido. Esiste inoltre un'interfaccia Frozen Rotor che approssima la rotazione includendo ulteriori termini nelle equazioni di flusso, anziché alterare la geometria durante la simulazione. Utilizzando una quantità minore di risorse computazionali rispetto alla soluzione della rotazione effettiva, questa interfaccia fisica aggiunge le forze centrifughe o di Coriolis alla formulazione delle equazioni di Navier-Stokes stazionarie e offre buone approssimazioni per modellare applicazioni come pompe, turbine, separatori centrifughi e miscelatori. È anche disponibile un'interfaccia Swirl Flow per la modellazione di flussi rotanti. In questa interfaccia fisica, viene inclusa ai modelli assialsimmetrici una componente di velocità vorticosa fuori dal piano per generare un vettore di velocità tridimensionale definito in una geometria 2D, riducendo i requisiti computazionali rispetto alla modellazione 3D.
Flusso a film spesso: il CFD Module comprende un'interfaccia fisica specializzata per modellare il flusso di liquidi o gas confinati in strati sottili tra due superfici o su una superficie, come nel caso della lubrificazione.
Flusso non newtoniano: il CFD Module include il modello di Carreau e il modello a legge di potenza, ma consente anche di definire equazioni personalizzate o di importare dati esterni per descrivere la viscosità e la velocità di deformazione di un polimero e di altri fluidi non newtoniani. In questo modo si possono ad esempio definire i modelli viscoelastici. Le funzioni incorporate in COMSOL Multiphysics possono essere utilizzate per modellare cambiamenti improvvisi o apprezzabili nelle proprietà di un fluido, ad esempio per descrivere i fluidi alla Bingham.
Flusso attraverso setacci sottili: è disponibile una funzione (Thin Screen) che semplifica la modellazione di flussi in volumi che prevedono piastre perforate, griglie e reti metalliche. Ciò comprende le correlazioni per i coefficienti di rifrazione e resistenza che considerano gli effetti del flusso attraverso un setaccio e, per il flusso laminare o turbolento, prima e dopo un setaccio.
Fluidodinamica e trasferimento termico: il CFD Module comprende un'interfaccia Conjugate Heat Transfer per descrivere la trasmissione del calore completamente accoppiata in solidi e liquidi, compresi i flussi di tipo laminare e turbolento. Per default, questa interfaccia risolve il flusso non isotermo e può essere accoppiata a un'altra interfaccia fisica che include la temperatura, ad esempio le interfacce per irraggiamento superficie-superficie nell'Heat Transfer Module, il riscaldamento per effetto Joule e il calore di reazione nelle interfacce Trasporto di specie chimiche. Inoltre, le interfacce fisiche per il trasferimento termico in mezzi porosi combinano la conduzione nella matrice solida alla conduzione e alla convezione nella fase fluida, tenendo conto al contempo del percorso tortuoso del fluido e della dispersione di calore che ciò comporta.
Flusso reagente: è disponibile un'interfaccia specializzata che accoppia sia il flusso laminare sia quello turbolento al trasporto di specie chimiche in soluzioni diluite e concentrate e che può essere accoppiata alle interfacce che descrivono le reazioni chimiche nel Chemical Reaction Engineering Module.
Oltre alle formulazioni precostruite, si possono definire altre espressioni come funzioni arbitrarie delle variabili modellate e inserirle nei campi di modifica per introdurre i termini source e sink, per descrivere le proprietà del materiale o per definire le condizioni al contorno. Ad esempio, si potrebbero definire le proprietà fisiche mediante funzioni personalizzate che descrivono l'influenza della composizione, della temperatura, della velocità di deformazione o di qualsiasi altra variabile del modello. Si potrebbero anche definire le condizioni al contorno e i termini source e sink come funzioni delle variabili modellate o accoppiarle all'analisi in un'altra fisica. Tutto ciò può essere svolto direttamente nella GUI, senza dover programmare alcuna subroutine. La capacità di definire equazioni arbitrarie delle variabili modellate, ad esempio il calcolo della media tra le sezioni trasversali di un dominio o nei volumi di controllo del dominio, consente anche la caratterizzazione del flusso mediante l'utilizzo di diverse rappresentazioni dei numeri di Reynolds, Mach e Grashof.
Oltre all'aggiunta dei termini source e sink e alla definizione delle proprietà fisiche come funzioni, si possono anche modificare le equazioni sottostanti nelle interfacce fisiche sopra descritte per modificare la descrizione del flusso e creare nuovi accoppiamenti non standard ad altre interfacce fisiche.
Molte delle interfacce fisiche supportano anche descrizioni complesse delle condizioni al contorno. Oltre a precisare condizioni al contorno con e senza slittamento, è anche possibile impostare pareti per simulare le condizioni di parete scorrevole e mobile, così come pareti con infiltrazioni e persino pareti aperte, nelle quali si presume che sia il fluido stesso a trovare liberamente la propria condizione al contorno. La definizione delle funzioni di parete e dei rispettivi parametri è disponibile per i modelli di turbolenza. Per ingressi e uscite, è possibile configurare una velocità o un profilo di velocità unitamente a condizioni di pressione, sollecitazione o flusso di massa, ma anche una condizione al contorno di flusso periodico che collega il flusso in uscita da un contorno all'ingresso di un altro. Le condizioni al contorno periodiche sono utili per modellare una cella in un ambiente geometrico composto da un assemblato di celle ripetitive.
Piattaforma unificata per simulazioni multifisiche e multidisciplinari
Il flusso è una parte integrante di molti processi e applicazioni e deve essere compreso a fondo e frequentemente ottimizzato a seconda della sua influenza su altri processi. L'efficace raffreddamento del disco rigido di un computer, la dispersione di energia all'interno del film di smorzamento di un accelerometro e il trasporto di specie attraverso le diverse parti di un reattore chimico sono esempi in cui il flusso contribuisce a un processo descritto da altri tipi di fisica. Tuttavia, nel mondo reale, il calore emanato dai dispositivi elettronici influisce sulla densità del fluido. L'elasticità dell'accelerometro impone un'oscillazione al flusso e le reazioni cambiano la composizione chimica e potenzialmente la pressione che lo regola. Per questo è necessario includere anche questi effetti per ottenere una descrizione accurata del processo nel suo complesso.
COMSOL Multiphysics e il CFD Module vi aiutano a descrivere tali processi attraverso l'accoppiamento semplice di ogni tipo di fisica coinvolto e offrendo accesso totale alle equazioni del modello direttamente nella GUI. Si hanno inoltre a disposizione le formulazioni per l'interazione fluido-struttura (FSI) accoppiate in maniera bidirezionale. Queste consentono di modellare scenari in cui il fluido deforma la struttura e dove la reazione di questa struttura alla deformazione influisce a sua volta sul flusso. Tutte le interfacce fisiche presenti nel CFD Module possono essere accoppiate con qualsiasi altro modulo della suite di prodotti COMSOL per creare una piattaforma standard per applicazioni che devono tener conto della fluidodinamica computazionale.
COMSOL fornisce anche altri moduli per modellare il flusso in modi alternativi rispetto al CFD Module, che possono comunque essere accoppiati facilmente per sfruttare i vantaggi specifici. Tra questi il Pipe Flow Module, che modella un flusso completamente sviluppato in reti di tubazioni 2D e 3D utilizzando gli elementi finiti monodimensionali, con una componente di velocità media tangenziale lungo l'asse longitudinale per descrivere le sezioni del tubo. Ciò consente di modellare il flusso in una rete di tubazioni collegata ai serbatoi di un processo, evitando di generare la mesh della sezione trasversale delle tubazioni che compongono la rete (ne deriverebbe mesh 3D di grandi dimensioni). COMSOL offre una funzionalità per mappare i dati da spigoli a superfici e volumi e viceversa, per collegare reti di tubazioni a geometrie 2D o 3D complete di mesh. In questo modo si possono considerare le proprietà fluidodinamiche di una certa unità all'interno di un'intera rete di tubazioni e regolare le condizioni operative di entrambe in relazione reciproca.
Poiché tutti i tipi di fisica sono modellati mediante la medesima interfaccia grafica utente e con lo stesso flusso di lavoro, i progettisti CFD possono comunicare facilmente con altri tecnici impegnati nell'analisi delle altre caratteristiche (strutturali, elettriche o chimiche) dello stesso componente o processo. Basterà loro inviare il file, disattivare la fisica non oggetto di studio, aggiungere un'altra interfaccia fisica o due e continuare la modellazione. Senza ovviamente dimenticare di accoppiare queste nuove interfacce fisiche a quella che descrive il flusso, per generare una simulazione multifisica completa del componente o processo.
Avvicinarsi alla soluzione finale per fasi
La simulazione fluidodinamica computazionale di apparecchiature o processi implica spesso un approccio per fasi alla soluzione finale. Il CFD Module offre numerosi strumenti, funzioni, impostazioni e interfacce per seguire tutte le fasi del flusso di lavoro.
Il CAD Import Module o uno dei prodotti LiveLink™ consente di importare la geometria del pezzo, componente o processo da simulare da un software CAD. Questi prodotti permettono poi di intervenire sulla geometria importata per eliminare elementi di piccole dimensioni e le parti geometriche non rilevanti, che complicano la generazione della mesh per le simulazioni CFD.
Una volta importato un file CAD 3D nel CFD Module, non è necessario iniziare immediatamente a eseguire simulazioni 3D. COMSOL Multiphysics consente di creare un'area di modellazione 2D sulla base di geometrie 3D. Lavorando con una geometria 2D, ad esempio su una sezione trasversale rappresentativa del modello, sarà possibile familiarizzare con i diversi parametri della simulazione. Senza occupare le enormi risorse computazionali che richiederebbe un modello 3D, è possibile:
Indagare l'effetto delle proprietà del fluido sulla simulazione complessiva
Decidere il modello di turbolenza appropriato da utilizzare
Definire la corretta collocazione della mesh e della mesh di strato limite
Selezionare i solutori e le impostazioni da utilizzare
Studiare gli effetti degli accoppiamenti multifisici sulla fluidodinamica
Stimare la precisione che ci si può aspettare da un modello 3D
La migliore comprensione del sistema sulla base del modello 2D consentirà quindi di applicare quanto appreso alla simulazione 3D per eseguirla con impostazioni ottimizzate. Questa funzione è particolarmente utile per i progetti CAD 3D di tipo simmetrico o assialsimmetrico, evitando la modellazione 3D e riducendo notevolmente i requisiti computazionali.
Massima flessibilità per mesh e risoluzione robusta
La generazione della mesh è spesso uno step critico nella modellazione della fluidodinamica computazionale in dispositivi o processi. La mesh deve essere di qualità sufficiente a garantire precisione, ma non così fine da assorbire una quantità non necessaria di risorse computazionali. COMSOL Multiphysics offre molti strumenti per garantire la costruzione di buone mesh per le simulazioni di fluidodinamica. Tra questi: strumenti per la creazione di mesh non strutturate, strutturate o swept, che offrono flessibilità nella considerazione delle proporzioni geometriche del dominio da modellare e del loro rapporto e degli effetti sulle direzioni di flusso. Il CFD Module utilizza anche una mesh di strato limite per inserire strati di mesh strutturata lungo contorni come le pareti e integrarli nelle mesh circostanti strutturate o non strutturate per creare una mesh complessiva ibrida.
Il CFD Module si avvale della maggior parte dei solutori di tipo lineare, non lineare, tempo-dipendente e parametrico disponibili all'interno di COMSOL Multiphysics. Tra questi, i solutori diretti per risolvere modelli 2D e 3D con un numero non troppo elevato di gradi di libertà, che hanno buone capacità di convergenza, e solutori iterativi per modelli più grandi o più complessi. Sono disponibili precondizionatori e solutori multigriglia da utilizzare unitamente ad altri per assicurare la convergenza di una soluzione. Sono offerte funzionalità avanzate dei solutori, come l'inclusione della diffusione nella direzione di advezione (streamline) e ad essa ortogonale (crosswind), e metodi di livellamento, i cui valori possono essere regolati come la maggior parte delle altre impostazioni. Il CFD Module utilizza inoltre elementi di ordine diverso nella stessa simulazione e può applicare elementi di ordine inferiore per risolvere una variabile, ad esempio la pressione, ed elementi di ordine superiore per risolvere le altre variabili.
Lo schema del solutore consente anche approssimazioni migliori dei valori iniziali per il processo di soluzione. Ciò comprende l'impostazione di schemi di solutori per risolvere prima una modellazione meno complessa del flusso, ad esempio un campo di flusso laminare all'interno di un determinato dominio, e applicare questa soluzione come ipotesi iniziale di una descrizione del flusso turbolento. Una soluzione che utilizza l'interfaccia Frozen Rotor può essere utilizzata come campo di valori iniziale per una simulazione completa del dominio di modellazione rotante, risparmiando in questo modo una quantità enorme di risorse computazionali.
Estrarre dati esaurienti e precisi dalle simulazioni CFD
Il CFD Module calcola le proprietà intrinseche del flusso, come traiettorie di flusso, perdite di pressione, forze sugli oggetti sottoposti al flusso, resistenza e portanza, distribuzione della temperatura e variazioni nella composizione del fluido in un sistema. Fornisce inoltre un postprocessing qualitativo attraverso animazioni e grafici di superficie, linee di flusso, a nastro, freccia e tracciamento di particelle. I dati tratti da tutti i parametri e dalle variabili nelle equazioni soggiacenti e i termini supplementari possono essere estratti e trasformati in grafici rispetto a qualsiasi altro parametro o variabile. Ciò comprende i valori derivati dal postprocessing, come i coefficienti di resistenza e portanza. Includendo e accoppiando fisiche del Particle Tracing Module nella risoluzione di un'applicazione CFD si possono considerare gli effetti delle particelle sul flusso (Lagrange-Euler) e le interazioni particella-particella dipendenti dalle collisioni e dalle rispettive quantità di moto.
CFD Module
Product Features
Full Navier-Stokes equations formulations for laminar and turbulent flow
Reynolds-Averaged Navier-Stokes (RANS) equations for the modeling of turbulent flow
RANS interfaces such as the k-epsilon, low-Reynolds k-epsilon, k-omega, SST (Shear Stress Transport) and Spalart-Allmaras interfaces
Buoyancy terms in nonisothermal laminar and turbulent flow by default
Euler-Euler Model, Bubbly Flow, and Mixture Model methods for dispersed multiphase flows
Phase Field and Level Set interfaces for separated multiphase flows
Conduction and convection in gases and liquids
Flow in dense and sparse porous media through Darcy's Law and the Brinkman Equations
Physics interfaces for modeling Heat Transfer in Porous Media and Conjugate Heat Transfer
Compressible high Mach number flow using the Euler equations
Diffusion and convection of materials in dilute solutions with the specialized Reacting Flow interfaces
Tunable crosswind and isotropic diffusion stabilization methods for fluid flow, convective heat, and mass transport
Carreau and Power-Law models for modeling non-Newtonian fluids
Thin-film flow for lubrication and tribology in general
Variety of boundary conditions, such as flow through thin screens, periodic boundary conditions, and specification of laminar profiles at the inlet
Automatic boundary layer meshing and hybrid meshes where wall functions are defined
Built-in variables for computing the Reynolds, Prandtl, Nusselt, Rayleigh, and Grashof numbers
Functionality for formulating arbitrary expression of the modeled variable during postprocessing, including averaging over boundaries or domains, for example to evaluate lift and drag force coefficients
Particle tracing methods where particles can affect the flow (Lagrange-Euler)1
1Requires the Particle Tracing Module
Creating 2D Models from Cross Sections of 3D Geometries
COMSOL Multiphysics has a great feature for creating 2D models from cross sections of 3D geometries. 3D models can have long solution times and take up lots of computer memory. This feature has been added to the software so that 2D models can be created from 3D symmetric or axisymmetric models to solve much quicker. They can also be created to assist in parts of a 3D model to investigate modeling strategies, as well as certain results and parameters. This video shows the simple process of creating a Work Plane in a 3D model, adding a 2D model, and using the cross section created by the Work Plane as the 2D geometry. The same materials and physics are used to run the model in 2D and the results are compared with the results from the 3D model. After watching the video, you can try out this feature on your own models, or visit our model gallery to download the
Shell-and-Tube Heat Exchanger
model to follow along to.
CFD Module
Numerical Simulation-Based Topology Optimization Leads to Better Cooling of Electronic Components in Toyota Hybrid Vehicles
Toyota Research Institute of North America, MI, USA
The Toyota Research Institute in Ann Arbor drives cutting-edge research in energy efficiency, mobility infrastructure, and safety. Here, Ercan Dede and his team are designing heat sinks (or cold plates), which are affixed to fragile electrical systems and other applications in Toyota's hybrid vehicles. Their simulations simulate the cold ...
Modeling Optimizes a Piezoelectric Energy Harvester Used in Car Tires
Alexander Frey and Ingo Kuehne
Siemens Corporate Technology, Munich, Germany
Siemens is a technology company working with electronics and electrical engineering in industry, energy, and healthcare. Researchers at Siemens Corporate Technology are experimenting with an energy harvesting MEMS (Micro Electro-Mechanical System) generator. In collaboration with Continental AG, they are designing a MEMS device for use as a Tire ...
The Burning Need for Modeling
Gianluca Argentini
Riello Burners
Legnago, Italy
Riello Burners manufactures high-efficiency low maintenance burners for use in residential and commercial heating applications, as well as in industrial processes. Proper ventilation is crucial for a burner because it maintains appropriate air flow into the combustion head where the flame is located. When designing the fan for any burner, there ...
Silent Air Cooling: A New Approach to Thermal Management
Nels Jewell-Larsen,
Tessera Technologies, CA, USA
Removing heat from electronic devices is a necessity that up until now was achieved by rotary fans. Tessera, a company that delivers innovative miniaturization technologies and products for next-generation electronic devices, developed a replacement for rotary fans that can satisfy demanding space and noise constraints. They designed a silent air ...
A Smooth Optical Surface in Minutes
Anthony Beaucamp
Zeeko Ltd
Leicestershire, UK
Zeeko Ltd is a technology company that manufactures corrective polishing machines for optics and other surfaces. They are presently researching fluid jet polishing (FJP), which pumps a mixture of water and abrasive particles through a nozzle onto a work piece. Unfortunately, FJP tends to introduce waveforms on to the polished surfaces, which in ...
Cluster Simulation of Refrigeration Systems
Stephen Codyer & Mehdi Raessi
Department of Mechanical Engineering
UMass Dartmouth
Dartmouth, MA

Jessica Currie & Vladimir GoldsteinSunwell Technologies, Inc., Woodbridge
ON, Canada
Sunwell Technologies Inc. produces and distributes the slurry ice (Deepchill™) that is an environmentally-friendly way to refrigerate foods and other items in trucks and the like. They commissioned the Computational Multiphase Flows group at the University of Massachusetts, Dartmouth (UMass Dartmouth) to provide simulation support to the ...
The Science of Water Screening
Ehrich Shaw
Johnson Screens
New Brighton, MN
Johnson Screens® are the manufacturers of steel screens that impede debris from lakes and rivers from entering pipes and valves that will utilize the water. Their task is to provide application-specific screens that must be customized to the environment they are operating in. Often this means taking into account the characteristics of the debris ...
Sea Floor Energy Harvesting
Nagi Elabbasi, Brentan Alexander, and Stuart Brown

Veryst Engineering, Needham, MA, USA

Veryst Engineering has provided design solutions for a variety of industries in the field of energy harvesting. One of their current projects is working on ocean floor sensors, used in naval applications, environmental monitoring, earthquake monitoring, and oil exploration, which presently run on battery-power requiring expensive battery ...
Restoration of Lake Water Environments
Shuya Yoshioka
Ritsumeikan University
Shiga, Japan
Human activity steals oxygen from natural water sources such as lakes and this oxygen-deficient water often contains high levels of toxic substances such as metals and organic material. Thus the number of lakes that can be used as a source of water is reduced, straining the available resources and creating a need for water-treatment plants of ...
Numerical Simulation-Based Topology Optimization Leads to Better Cooling of Electronic Components in Toyota Hybrid Vehicles
Modeling Optimizes a Piezoelectric Energy Harvester Used in Car Tires
The Burning Need for Modeling
Silent Air Cooling: A New Approach to Thermal Management
A Smooth Optical Surface in Minutes
Cluster Simulation of Refrigeration Systems
The Science of Water Screening
Sea Floor Energy Harvesting
Restoration of Lake Water Environments
CFD Module
Heat Sink
This model is intended as a first introduction to simulations of fluid flow and conjugate heat transfer. It shows you how to: Draw an air box around a device in order to model convective cooling in this box. Set a total heat flux on a boundary using automatic area computation. Display results in an efficient way using selections in data sets.
Boiling Water
Boiling flow is an example of phase transition initiated by raising the temperature of a liquid above its saturation temperature. It is possible to accomplish this in many ways; in this example by applying an external heat flux to a solid surface in contact with the liquid. There are three distinct regimes that characterize boiling induced by ...
Droplet Breakup in a T-junction
Emulsions consist of small liquid droplets immersed in an immiscible liquid and widely occur in the production of food, cosmetics, fine chemicals, and pharmaceutical products. The quality of the product is typically dependent on the size of the droplets. Simulating these processes can help in optimizing these droplets as well as other process ...
Circulated Fluidized Bed
In the current model, a circulated fluidized bed is studied. The dispersed phase, consisting of solid spherical particles, is fluidized by air and transported upwards through a vertical riser. Upon reaching the outlet, the dispersed phase is reinjected through vertical slots at the bottom of the bed. The solid and fluid phases are modeled using ...
Porous Reactor with Injection Needle
This model treats the flow field and species distribution in an experimental reactor for studies of heterogeneous catalysis. The model exemplifies the coupling of free and porous media flow in fixed bed reactors. The reactor consists of a tubular structure with an injection tube that has its main axis perpendicular to the axis of the reactor. ...
Thermal Modeling of a Cylindrical Li-ion Battery in 3D
This example simulates the heat profile in an air-cooled cylindrical battery in 3d. The battery is placed in a matrix in a battery pack. The thermal model is coupled to a 1d-battery model that is used to generate a heat source in the active battery material. The model requires the Batteries & Fuel Cells Module and the Heat Transfer Module
Forced and Natural Convection Cooling of Circuit Boards
The suite of models examine the air cooling of circuit boards populated with multiple integrated circuits (ICs), which act as heat sources. Two possible cooling scenarios are depicted: vertically aligned boards using natural convection, and horizontal boards with forced convection (fan cooling). In this case, contributions caused by the induced ...
Tin Melting Front
This example demonstrates how to model phase transition by a moving boundary interface according to the Stefan problem. A square cavity containing both solid and liquid tin is submitted to a temperature difference between left and right boundaries. Fluid and solid parts are solved in separate domains sharing a moving melting front. The position ...
Displacement Ventilation of Air in a Room
In general, there are two classes of ventilation: mixing ventilation and displacement ventilation. In displacement ventilation, air enters a room at the floor level and displaces warmer air to achieve the desired temperature. Heating sources in the room can include running electronic devices, or inlet jets of warm air. A potential issue with the ...
Liquid Cooled Lithium Ion Battery Pack
This model simulates a temperature profile in a number of cells and cooling fins in a liquid-cooled battery pack. The model solves in 3D and for an operational point during a load cycle. A full 1D electrochemical model for the lithium battery calculates the average heat source.
Heat Sink
Boiling Water
Droplet Breakup in a T-junction
Circulated Fluidized Bed
Porous Reactor with Injection Needle
Thermal Modeling of a Cylindrical Li-ion Battery in 3D
Forced and Natural Convection Cooling of Circuit Boards
Tin Melting Front
Displacement Ventilation of Air in a Room
Liquid Cooled Lithium Ion Battery Pack