Heat Transfer Module
Per la modellazione dello scambio termico in solidi e fluidi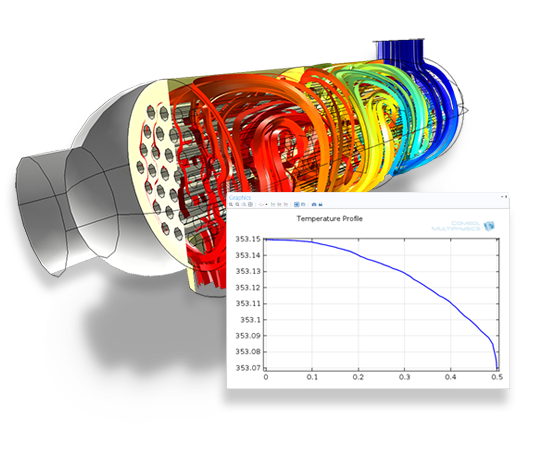 Profilo di temperatura nel serbatoio e lungo uno dei tubi di uno scambiatore di calore.
Generazione, consumo e scambio di calore
L'Heat Transfer Module consente di analizzare gli effetti del riscaldamento e del raffreddamento in dispositivi, componenti o processi. Il modulo offre strumenti di simulazione per studiare i meccanismi di scambio termico – conduzione, convezione e irraggiamento – spesso in correlazione ad altri fenomeni fisici, coinvolgendo per esempio la meccanica strutturale, la fluidodinamica, l'elettromagnetismo e le reazioni chimiche. In questo contesto, l'Heat Transfer Module funge da piattaforma per tutti i settori e le applicazioni possibili, dove la generazione, il consumo o lo scambio di calore o energia è di importanza fondamentale o contribuisce significativamente al processo studiato.
Proprietà termodinamiche e dati dei materiali
L'Heat Transfer Module contiene un database che raccoglie molte proprietà termodinamiche dei materiali, quali i fluidi e i gas più comuni, necessarie per effettuare analisi accurate. Tra queste, la conducibilità termica, la capacità termica e la densità. Anche la Material Library è un'ottima fonte da cui ricavare le proprietà dei materiali poiché contiene i dati o le relazioni algebriche di oltre 2.500 materiali solidi con alcune loro proprietà, tra le quali il modulo di Young e la conducibilità elettrica, dipendenti dalla temperatura. L'Heat Transfer Module consente anche l'importazione da Excel® e MATLAB® di dati, termodinamici e non solo, e il collegamento a database esterni di dati termodinamici attraverso lo standard CAPE-OPEN.
Altre immagini:
Un flusso di lavoro unificato
L'Heat Transfer Module è unico nel panorama della modellazione, poiché è uno strumento dedicato alla simulazione degli effetti termici sui processi di lavorazione e sulla progettazione di prodotti. COMSOL adotta un approccio unificato per la configurazione del modello e l'esecuzione delle simulazioni, per studiare lo scambio termico e tutti gli altri fenomeni fisici che influenzano le applicazioni finali. Avrete quindi a disposizione uno strumento standard per comunicare i risultati delle vostre analisi a colleghi che stanno studiando fenomeni diversi. Indipendentemente dal fenomeno fisico che voi o i vostri colleghi studiate all'interno di una particolare applicazione, il flusso di lavoro è uniforme e lineare e si articola nelle seguenti fasi:
Importazione o disegno della geometria del dispositivo o del sistema in esame
Selezione dei dati dei materiali o delle relazioni dagli stessi file, utilizzando proprietà costanti o dipendenti dalla temperatura
Scelta dello schema di calcolo migliore per trattare lo scambio termico del sistema sulla base dell'ampia gamma di interfacce su misura che possono dipendere o meno da altri fenomeni fisici accoppiati al sistema
Inclusione di altri effetti fisici accoppiati con gli effetti dello scambio termico
Definizione delle condizioni e dei vincoli sul contorno del sistema
Generazione della mesh del sistema. Questa o le sue derivate vengono poi utilizzate in simulazioni diverse
Esecuzione del calcolo per l'individuazione di una soluzione, con un solutore e impostazioni appropriate per l'analisi da effettuare
Elaborazione e visualizzazione dei risultati e presentazione negli stessi grafici e figure, anche provenienti da simulazioni diverse
Piattaforma unificata per simulare gli effetti termici sui processi di lavorazione e sui progetti di prodotti
Insieme a COMSOL Multiphysics e alla sua ampia gamma di moduli aggiuntivi, COMSOL offre uno strumento unificato per studiare tutti gli aspetti di un progetto o processo, a prescindere dai fenomeni fisici oggetto di studio. Si può modellare il riscaldamento Joule dei dispositivi di un sistema in una prima fase, il loro raffreddamento per ventilazione del sistema in un'altra e le sollecitazioni termiche cui sono soggetti in una fase ancora successiva. Oppure è possibile simulare tutti gli effetti anche contemporaneamente.
Lo scambio termico è un effetto fisico importante, per lo più considerato in relazione ad altri effetti fisici. I campi di temperatura portano a sollecitazioni termiche, mentre i campi elettromagnetici creano riscaldamento resistivo, per induzione, a microonde e a radiofrequenza. L'analisi della fluidodinamica su componenti diversi è essenziale per capire come raffreddarli, mentre le variazioni di temperatura esercitano un forte impatto sulle proprietà del materiale e sul loro comportamento fisico durante vari tipi di lavorazione termica, come fusione o saldatura. L'Heat Transfer Module prevede diverse interfacce utente per facilitare la modellazione dello scambio termico accoppiato con altri fenomeni e può essere integrato in uno qualsiasi degli altri moduli della suite di prodotti COMSOL®.
I meccanismi di scambio termico
Caratteristica fondamentale dell'Heat Transfer Module è la capacità di eseguire calcoli relativi alla conservazione del calore, ossia bilanci di energia, in cui vengono considerati diversi fenomeni come perdite meccaniche, calore latente, riscaldamento Joule o calore di reazione. L'Heat Transfer Module offre interfacce preconfigurate, le cosiddette interfacce fisiche, pronte a ricevere i dati di input del modello tramite l'interfaccia grafica utente (GUI) e a utilizzarli per formulare i bilanci di energia. Come con tutte le interfacce fisiche all'interno della suite di prodotti COMSOL, è possibile modificare le equazioni già presenti per una maggiore flessibilità nella definizione dei meccanismi di trasferimento, indicando ad esempio fonti di calore specifiche o accoppiando altri fenomeni fisici.
Conduzione
L'Heat Transfer Module prevede lo scambio termico per conduzione in solidi e liquidi, da soli o combinati, e fornisce accesso illimitato alla conducibilità termica per definire la sua dipendenza dalle variabili, spesso come funzione della temperatura. Il calcolo automatico delle coordinate curvilinee di geometrie arbitrarie, unito alla capacità di definire le proprietà anisotrope dei materiali, assicura rappresentazioni fedeli degli effetti termici su strutture anisotrope come i materiali compositi.
Irraggiamento
L'Heat Transfer Module supporta la modellazione dell'irraggiamento in vari scenari e comprende solutori specializzati per simulare tale fenomeno e accoppiarlo a convezione e conduzione. L'Heat Transfer Module offre gli strumenti per modellare l'irraggiamento da superficie ad ambiente, da ambiente a superficie e tra superfici in mezzi trasparenti, opachi e semiopachi.
Il modulo utilizza il metodo della radiosità per modellare l'irraggiamento tra superfici e permette di considerare le proprietà di superficie dipendenti dalla lunghezza d'onda per poter considerare fino a cinque bande spettrali simultaneamente nello stesso modello. Questo metodo è appropriato per modellare l'irraggiamento solare, dove l'assorbività della superficie per lunghezze d'onda corte (banda spettrale solare) può differire dall'emissività della superficie per le lunghezze d'onda maggiori (banda spettrale ambiente). Per ogni banda spettrale è anche possibile definire le proprietà di trasparenza. L'Heat Transfer Module modella anche lo scambio termico radiativo in mezzi semiopachi, che considera assorbimento, emissione e dispersione della radiazione termica in tali mezzi.
Convezione
La presenza di fluidi nei sistemi introduce chiaramente, nelle applicazioni di scambio termico, il fenomeno della convezione e i contributi dell'energia, attraverso il lavoro delle forze di pressione e gli effetti viscosi. L'Heat Transfer Module supporta questi processi e tiene conto della convezione sia forzata sia libera o naturale. Offre inoltre un'interfaccia fisica specifica per lo scambio termico coniugato, dove domini solidi e liquidi vengono modellati nello stesso sistema. Per tener conto della fluidodinamica, l'Heat Transfer Module offre interfacce fisiche con cui modellare il flusso laminare e turbolento sulla base dei modelli di turbolenza k-ε a basso/alto numero di Reynolds. In tutti i casi di flusso, gli effetti di galleggiamento naturale che si verificano a causa di differenze di temperatura sono presi in considerazione per default assumendo un flusso di tipo non isotermico. L'integrazione dei modelli di scambio termico con il CFD Module consente di eseguire ulteriori simulazioni di fluidodinamica, con modelli di turbolenza alternativi o riguardanti il flusso in mezzi porosi e il flusso bifase.
L'Heat Transfer Module include anche funzionalità per semplificare la simulazione della convezione, quando la modellazione completa della fluidodinamica non garantisce un livello di precisione maggiore o risulta proibitiva per la scarsezza di risorse computazionali. Le funzionalità sono disponibili attraverso una libreria incorporata di coefficienti di scambio termico e possono essere utilizzate per simulare il trasferimento di calore tra l'ambiente che circonda il sistema preso in esame e i contorni mediante convezione forzata o naturale. Il modulo contiene anche le relazioni per diversi tipi di configurazioni geometriche, come camini o piastre (verticali, orizzontali o inclinate) e diversi fluidi esterni (aria, acqua e olio).
Scambio termico in mezzi porosi
Sebbene i concetti di scambio termico nella fluidodinamica del flusso laminare e turbolento in mezzi liberi siano ben noti, l'Heat Transfer Module offre anche interfacce robuste per modellare lo scambio termico in mezzi porosi, considerando conduzione e convezione, nella fase solida e nei pori per la matrice di porosità. E' possibile selezionare diversi modelli di media per definire le proprietà dello scambio termico effettivo calcolate automaticamente dalle rispettive proprietà dei solidi e dei liquidi. Vi è anche a disposizione una funzionalità predefinita per la dispersione di calore in mezzi porosi, dovuta alla tortuosità del percorso del fluido attraverso i pori.
Bioriscaldamento
L'Heat Transfer Module offre un'interfaccia fisica per l'equazione di bioriscaldamento. L'interfaccia Equazione di bioriscaldamento è lo strumento perfetto per simulare gli effetti termici nei tessuti umani e in altri sistemi biologici, dovuti a riscaldamento a microonde, resistivo, per reazione chimica o radiativo. Anche in questo caso le variazioni di temperatura nell'ambiente COMSOL possono essere trasferite facilmente alle proprietà del materiale di altri fenomeni fisici, ad esempio le proprietà elettriche del materiale in una simulazione multifisica accoppiata. Il bioriscaldamento può essere combinato con vari fenomeni di cambiamento di fase, compresa la necrosi tissutale.
Cambiamento di fase
Il cambiamento di fase è una proprietà dirompente nell'analisi dello scambio termico, perché può introdurre trasformazioni difficili da prevedere delle interfacce geometriche di transizione tra le fasi o cambiamenti improvvisi nelle proprietà del materiale (come conducibilità, capacità termica o comportamento di flusso) che possono differire in modo apprezzabile tra fase solida, liquida e gassosa del materiale. Il cambiamento di fase introduce inoltre il calore latente, dominante in molti bilanci termici. Grazie a una serie di funzionalità e interfacce utente diverse, COMSOL Multiphysics e l'Heat Transfer Module sono in grado di tener conto di questi fenomeni disruttivi e possono anche modellare le variazioni volumetriche del modello mediante l'uso di mesh mobili. Vi è anche la possibilità di definire automaticamente le proprietà termodinamiche per considerare improvvise alterazioni nelle proprietà del materiale senza compromettere la continuità attraverso il controllo dell'intervallo tra i cambiamenti di fase.
Resistenza termica di contatto
Quando due oggetti solidi sono in contatto, la resistenza alla trasmissione del calore è spesso una funzione dell'estensione della superficie di contatto e della rispettiva finitura superficiale. Le rugosità creano tra le superfici piccoli spazi vuoti che inibiscono lo scambio termico; premendo tra loro i due corpi, si riduce la dimensione di questi spazi. Le interfacce fisiche fornite nell'Heat Transfer Module consentono di simulare il coefficiente di conduttanza termica per contatto in funzione della pressione applicata, della conducibilità specifica nello spazio vuoto e anche considerando il contributo dell'irraggiamento tra le due superfici separate dai piccoli spazi vuoti. Integrando i modelli di scambio termico con lo Structural Mechanics Module è possibile accoppiare direttamente gli aspetti termici e meccanici del contatto, compresa la dilatazione termica.
Strati sottili e gusci
I dispositivi o i processi da studiare sono spesso costituiti da materiali o domini geometricamente molto più piccoli rispetto al resto del sistema, come nel caso di sottili strati di rame sui PCB, la parete di un recipiente in pressione o strati sottili isolanti. Gli strumenti di modellazione dedicati contenuti nell'Heat Transfer Module simulano queste casistiche e riducono i requisiti computazionali. Vengono utilizzati gusci altamente conduttivi nei casi in cui il gradiente di scambio termico su uno strato o un guscio è significativo nelle direzioni tangenti (non attraverso il suo spessore) per evitare la generazione della mesh lungo il suo spessore. Inoltre, i risultati di queste soluzioni sono accoppiati alle entità 3D associate allo strato o al guscio, che può essere una parete sottile tra due domini più grandi, tra un dominio e l'ambiente circostante o uno strato incorporato nella superficie di un altro solido. In maniera simile, le interfacce fisiche per strati sottili con elevata resistività termica sono un modo semplice per rappresentare materiali poco conduttivi.
Heat Transfer Module
Product Features
Heat transfer by conduction including friction heating and thermal stresses and solid deformation
Conduction and convection in gases and liquids
Support for natural convection and nonisothermal flow
Conjugate heat transfer
Heat transfer in porous media through conduction in the solid phase and convection and conduction in the pores
Heat dispersion in porous media
Benchmarked bioheat model including tabulated data for blood perfusion rates and metabolic heat sources
Heat transfer in thin shells and highly-conductive layers
k-epsilon and low Reynold's k-epsilon turbulence models including for nonisothermal flow
Heat transfer from or to opaque surfaces through surface-to-ambient and surface-to-surface radiation
The emission, absorption and scattering of radiation in participating (or semitransparent) media
Resistive or Joule heating
Support for phase change including latent heats
Anisotropic conductivity coefficients and their computation on curvilinear coordinate systems
Full access to all postprocessing variables
Streamline, crosswind and isotropic diffusion stabilization methods for fluid flow, convective heat transport and heat sources
Interfaces for modeling moist air including a condensation detection indicator
Thermal contact modeling between surfaces through constriction conductance (Cooper-Mikic-Yovanovich and Mikic Elastic Correlation), gap conductance, and radiative conductance
Built-in variables for computing the Reynolds, Prandtl, Nusselt, Rayleigh, and Grashof numbers
Built-in relations to describe the heat transfer coefficients for vertical and inclined walls, and horizontal and parallel plates and tubes
Turbulent conductivity computed using the Kays-Crawford turbulence model
---
Application Areas
Arc welding
Bioheat treatment and thermal therapy
Casting and thermal processing
Disc brakes
Electronic cooling
Food processing, cooking, and sterilization
Friction stir welding
Furnace and burner design
Heat exchangers and cooling flanges
Laser welding and laser heating
Material heat treatment
Conjugate heat transfer
Drying and freeze drying
Heat transfer in porous media
Resistive and induction heating
Solidification
Energy efficiency in building and constructions
Power electronics and electronic cooling
Thermovoltaic cells
Thermal load
Shell and Tube Heat Exchanger Model Tutorial
This video shows how to build a working model of a cross-flow, one pass,
shell and tube heat exchanger
for the purpose of analyzing the heat transfer coefficient of the design as well as the tube and shell side pressure drops. In this model, two separate fluids at different temperature pass through the heat exchanger, flowing in opposite directions. In the shell of the heat exchanger, air enters at a velocity of 1m/s and a temperature of 5°C. Water enters the tube side with a velocity of 0.1 m/s and a temperature of 80°C. A k-epsilon turbulence model is used to analyze both the air and water flow profiles. The separating conducting material is assumed to be structural steel. The solution is checked for accuracy by analyzing the upside wall lift-off, which indicates that the model is accurate enough for the purpose of our analysis.
Heat Transfer Module
Numerical Simulation-Based Topology Optimization Leads to Better Cooling of Electronic Components in Toyota Hybrid Vehicles
Toyota Research Institute of North America, MI, USA
The Toyota Research Institute in Ann Arbor drives cutting-edge research in energy efficiency, mobility infrastructure, and safety. Here, Ercan Dede and his team are designing heat sinks (or cold plates), which are affixed to fragile electrical systems and other applications in Toyota's hybrid vehicles. Their simulations simulate the cold ...
Switching Made Easy
Matthias Richwin,
Leopold Kostal GmbH,
Dortmund, Germany
Modern cars offer a wide range of complex functionality that comes with several design challenges. This story discusses some of the necessary updates to a roof module in a premium car and the charging system of an electric car. The roof module of a particular model houses several components. 90% of the generated heat goes into its printed circuit ...
Keeping LEDs Cool Gets More Manageable Through Simulation
Aulis Tuominen and Mika Maaspuro
University of Turku
Turku, Finland

Toni Lopez
Philips Research
Eindhoven, The Netherlands

Sami Yllikäinen
Hella Lighting Finland Oy
Salo, Finland

Raimo ...
Light-emitting diodes (LEDs) offer many benefits over incandescent lighting, such as long life spans and high luminous efficiency, and they are environmentally friendly. One of the drawbacks, however, is that LEDs need to operate at the lowest possible temperatures and this must be carefully regulated. Researchers at Business and Innovation ...
Multiphysics Software, a Versatile, Cost-Effective R&D Tool at Sharp
Chris Brown
Sharp Laboratories of Europe, UK

There are several kinds of technology that designers at Sharp Laboratories of Europe work to create. From LED lighting, displays, and microfluidic lab-on-a-chip technology, to complex energy systems used in various devices, Sharp needed a new approach to finding the best designs. COMSOL Multiphysics and its add-on products provided the versatility ...
Conjugate Heat Transfer
Luke T. Gritter, Jeffrey S. Crompton, Sergei Yushanov, and Kyle C. Koppenhoefer
AltaSim Technologies
Columbus, OH
USA
This is an application brief describing the concept of Conjugate Heat Transfer, which is important in many industrial processes, such as quenching. In this brief, they simulate the heat transfer with and without phase transformation to analyze the rate of heat dissipation with respect to the flow conditions of the coolant media. The fluid flow ...
Multiphysics Simulation Helps Miele to Optimize Induction Stove Designs
Christian Schröder
mieletec FH Bielefeld
Germany

Holger Ernst
Miele
Germany
The induction stove was designed to meet a consumer need for better precision and speed than traditional stoves. Designers were tasked with improving the energy efficiency of the induction coils-stovepot interaction considering both the thermal and electromagnetics of the system. Miele, a world leader in domestic appliances and commercial ...
Battery Simulation Propels Electric Cars in China
Dr. Songrui Wang

Tianjin Institute of Power Sources, Tianjin, China
Dr. Songrui Wang is a researcher at The Tianjin Institute of Power Sources, involved in battery testing and evaluation for design recommendations on safety. She analyzes the risk of potential fire hazards associated with lithium ion batteries, which are fast becoming the most popular sort of battery for vehicles, mobile devices, and many other ...
Understanding the Origin of Uncertainty in Thermometer Calibration
Jonathan Pearce
National Physical Laboratory
UK
Thermometers have widespread application and like any measurement device, they must be calibrated. Many do this with the International Temperature Scale of 1990 (ITS-90), which is a platinum resistance thermometer that calibrates using a fixed point cell, which is a container with a well running through its center for insertion of the thermometer. ...
Around the Clock Solar Power
ENEL, Rome, Italy
Italian utility ENEL and the Italian National Agency for New Technologies joined together to develop a new kind of Concentrating Solar Power (CSP), using Parabolic Trough CSP to generate electricity during sunny hours as well as under overcast conditions or at night. This new type of CSP plant depends on molten salt as a medium for storing heat in ...
Simulation-Based Engineering Fosters Innovation and Invention
Ozgur Yildirim and Zihong Guo
Intellectual Ventures
Bellevue, WA
Simulation-based engineering is the key to shortening time to market for innovations. Intellectual Ventures, in Bellevue, WA, is reaping the benefits of using COMSOL Multiphysics to accelerate their workflow from design study to prototype, and then on to their customers as inventions through various partnerships and licensing programs. Projects ...
Multiphysics Analysis of a Burning Candle
Luke T. Gritter, Sergei Yushanov, Jeffrey S. Crompton, and Kyle C. Koppenhoefer

AltaSim Technologies, Columbus, Ohio
Using COMSOL Multiphysics, AltaSim Technologies were able to predict the temperature distribution and flow pattern of a burning flame during steady state candle burning. In a burning candle, local temperatures in the flame exceed 1400 °C. The heat transfer would include radiation, conduction, and convection components while the low melting ...
When it's Impossible to Take Actual Measurements, Simulations Provide the Answers
Simon Chiartano,
Terres Réfractaires du Boulonnais (TRB), France
To contain splashes and provide protection at plants where metal is fabricated, blast furnace runners need a roof made of cast iron and concrete. Terres Réfractaires Du Boulonnais, a manufacturing company in France, has hundreds of blast furnaces with a short functional lifespan, so engineers need to design roof runners as economically as ...
COMSOL Assists Master Chef in Winning International Competition
Dagbjorn Skipnes

Nofima Norconserv AS,
Stavanger, Norway

Nofima is a research group majority owned by the Ministry of Fisheries that performs research and development in aquaculture, fisheries, and the food industry. Nofima collaborated with the Norwegian Centres of Expertise – Culinology and Chef Gunnar Hvarnes to promote halibut through a cooking competition and provided research to ensure a new ...
Cluster Simulation of Refrigeration Systems
Stephen Codyer & Mehdi Raessi
Department of Mechanical Engineering
UMass Dartmouth
Dartmouth, MA

Jessica Currie & Vladimir GoldsteinSunwell Technologies, Inc., Woodbridge
ON, Canada
Sunwell Technologies Inc. produces and distributes the slurry ice (Deepchill™) that is an environmentally-friendly way to refrigerate foods and other items in trucks and the like. They commissioned the Computational Multiphase Flows group at the University of Massachusetts, Dartmouth (UMass Dartmouth) to provide simulation support to the ...
Optimization Slashes Energy Consumption in Silicon-Based MEMS CO2 Detectors
Serge Gidon

CEA, Leti, Minatec, Grenoble, France

CEA-MINATEC is an international center for micro and nano-technologies which is funded by CEA, a French government-funded technological research organization. One of their current projects is developing silicon-based MEMS CO2 sensors that employ optical detection for monitoring adequate building ventilation. For the sensor to function, a filament ...
Numerical Simulation-Based Topology Optimization Leads to Better Cooling of Electronic Components in Toyota Hybrid Vehicles
Switching Made Easy
Keeping LEDs Cool Gets More Manageable Through Simulation
Multiphysics Software, a Versatile, Cost-Effective R&D Tool at Sharp
Conjugate Heat Transfer
Multiphysics Simulation Helps Miele to Optimize Induction Stove Designs
Battery Simulation Propels Electric Cars in China
Understanding the Origin of Uncertainty in Thermometer Calibration
Around the Clock Solar Power
Simulation-Based Engineering Fosters Innovation and Invention
Multiphysics Analysis of a Burning Candle
When it's Impossible to Take Actual Measurements, Simulations Provide the Answers
COMSOL Assists Master Chef in Winning International Competition
Cluster Simulation of Refrigeration Systems
Optimization Slashes Energy Consumption in Silicon-Based MEMS CO2 Detectors
Heat Transfer Module
Heat Sink
This model is intended as a first introduction to simulations of fluid flow and conjugate heat transfer. It shows you how to: Draw an air box around a device in order to model convective cooling in this box. Set a total heat flux on a boundary using automatic area computation. Display results in an efficient way using selections in data sets.
Phase Change
This example demonstrates how to model a phase change and predict its impact on a heat transfer analysis. When a material changes phase, for instance from solid to liquid, energy is added to the solid. Instead of creating a temperature rise, the energy alters the material's molecular structure. Equations for the latent heat of phase changes ...
Tin Melting Front
This example demonstrates how to model phase transition by a moving boundary interface according to the Stefan problem. A square cavity containing both solid and liquid tin is submitted to a temperature difference between left and right boundaries. Fluid and solid parts are solved in separate domains sharing a moving melting front. The position ...
Forced and Natural Convection Cooling of Circuit Boards
The suite of models examine the air cooling of circuit boards populated with multiple integrated circuits (ICs), which act as heat sources. Two possible cooling scenarios are depicted: vertically aligned boards using natural convection, and horizontal boards with forced convection (fan cooling). In this case, contributions caused by the induced ...
Heating Circuit
Small heating circuits find use in many applications. For example, in manufacturing processes they heat up reactive fluids. The device used consists of an electrically resistive layer deposited on a glass plate. The layer causes Joule heating when a voltage is applied to the circuit. The layer's properties determine the amount of heat ...
Shell-and-Tube Heat Exchanger
Shell-and-tube heat exchangers are commonly used in oil refineries and other large chemical processes. In this model, two separated fluids at different temperatures flow through the heat exchanger, one through the tubes (tube side) and the other through the shell around the tubes (shell side). Several design parameters and operating conditions ...
Thermo-Photo-Voltaic (TPV) Cell
This model illustrates an application that maximizes surface-to-surface radiative fluxes and minimizes conductive heat fluxes. A thermo-photo-voltaic (TPV) cell generates electricity from the combustion of fuel and through radiation. The fuel burns inside an emitting device that radiates intensely. Photo-voltaic (PV) cells—almost like solar ...
Fluid-Structure Interaction in Aluminum Extrusion
In massive forming processes like rolling or extrusion, metal alloys are deformed in a hot solid state with material flowing under ideally plastic conditions. Such processes can be simulated effectively using computational fluid dynamics, where the material is considered as a fluid with a very high viscosity that depends on velocity and ...
Isothermal and Non-Isothermal Heat Exchangers
The example concerns a stainless-steel MEMS heat exchanger, which you can find in lab-on-a-chip devices in biotechnology and in microreactors such as for micro fuel cells. This model examines the heat exchanger in 3D, and it involves heat transfer through both convection and conduction. The model solves for the temperature and heat flux in the ...
Heat Sink
Phase Change
Tin Melting Front
Forced and Natural Convection Cooling of Circuit Boards
Heating Circuit
Shell-and-Tube Heat Exchanger
Thermo-Photo-Voltaic (TPV) Cell
Fluid-Structure Interaction in Aluminum Extrusion
Isothermal and Non-Isothermal Heat Exchangers