COMSOL Certified Consultants
---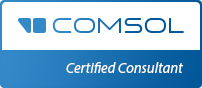 COMSOL Certified Consultants have extensive experience using the COMSOL Multiphysics® platform product as well as the many add-on and interfacing products. You may benefit from contacting a certified consultant if you are seeking guidance on starting a new simulation project or looking for ready-to-run models and reports with an in-depth analysis of the simulation results.
Browse the list of COMSOL Certified Consultants by geographic location below or use the search feature to find consultants that offer expertise in specific areas.
COMSOL designa determinate persone o aziende che devono essere Consulenti Certificati in base alla loro competenza nell'uso dei prodotti software di COMSOL e sulla base degli standard che COMSOL stabilisce e rivede di volta in volta. COMSOL non partecipa alla fornitura di prodotti o servizi da parte di consulenti certificati. COMSOL non ha stabilito che un consulente certificato in particolare possiede le competenze o l'esperienza necessarie per le vostre esigenze e vi incoraggia a contattare i consulenti certificati per valutare le vostre applicazioni insieme a voi.