---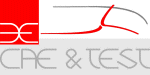 Address & Contact Information
BE CAE & Test
Viale Africa, 170 - Sc.A
95129 Catania
Italy
Phone: +39 095 216 6426
Email: info@be-caetest.it
Website: www.be-caetest.it
BE CAE & Test provides consultancy services for applications based on numerical modeling and experimental testing.
We daily support our customers in product/process development and problem solving, exploiting advanced multiphysical-based modeling tools and innovative acquisition and digital signal processing hardware and software. BE CAE & Test has been a COMSOL Certified Consultant since 2008. The experience gained in numerical modeling and experimental testing makes BE CAE & Test the ideal partner to guarantee reliability, innovation, and competitiveness.
Our Team
Our team is comprised of dynamic, motivated, and qualified engineers who have accumulated wide technical expertise through several years of research in academia and within the industry. These individuals are the key to our success. The company was founded by three PhD mechanical engineers motivated by strong cooperation and close teamwork since 2008. Now, a team of skilled engineers successfully allows the company to provide the required expertise according to market demand.
Areas of Specialization
Our main areas of expertise include:
Fluid dynamics (laminar/turbulent single-phase flow, multiphase flows, flows in saturated and unsaturated porous media, and diluted and dispersed species in flow)
Heat transfer (conduction, natural/forced convection, radiation, phase change phenomena, thermohygrometric analysis, HVAC systems, and thermal comfort)
Reacting flows (transport-diffusion of chemical species, transport-diffusion in mixing/reacting flows, contaminant concentration, and indoor air quality)
Structural mechanics (static linear and nonlinear analysis, modal analysis, and frequency responses analysis)
Multibody system dynamics (kinematics and dynamics of mechanical systems)
Customized GUI development (COMSOL applications)