Mark Your Calendars for the COMSOL Conference 2013
Decisions have been made, locations have been selected, and the dates have been confirmed. The COMSOL Conference 2013 has been finalized and you are all invited!
While October may seem a ways off for many of you, I know there must be some "planners" out there, like me. If you too like marking your calendar, here are this year's conference dates:
Singapore, Singapore: October 24-25
Seoul, Korea: November 15
Tokyo, Japan: December 6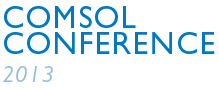 Coming this October: COMSOL Conference 2013
You get multiple days packed with over 30 hands-on minicourses, covering electrical, mechanical, fluid, and chemical applications. You can pick and choose the courses you want to take — and if you can't make a course, you can still get access to the material. Attendees can sit in on presentations from their peers to see how they are using COMSOL to model multiphysics phenomena in their work. Have you been working on something worth sharing? Consider presenting your work as well; the Conference is a great forum to reach an audience of 150,000+ engineers worldwide.
If you are interested in attending the COMSOL Conference 2013, make sure you save the date. To stay informed on new and exciting developments, fill out a Notice of Interest form on the Conference page for your intended location. Don't miss this opportunity to meet with COMSOL developers and engineers to get on-the-fly tips on your models, and to connect with the engineering community.
Still not sure what the COMSOL Conference is all about?
We have created a 2012 highlights page for first-time attendees curious to see what our multiphysics event is all about. Here you will find photos, videos, and blog posts from last year's COMSOL Conference. We also showcase the paper and poster winners on the 2012 highlights page.
We hope you can join us in the U.S., Europe, or Asia this October for the COMSOL Conference 2013!
---
---
|
© 2017 by COMSOL Inc.. All rights reserved