Gathering Multiphysics Enthusiasts in Three Cities Around the Globe
The COMSOL Conference makes three major stops across the globe annually in the United States, Europe, and India. The exact locations within these geographical areas are not chosen at random; they are top-traveled cities with lots to see and do while you're there. While the main focus of the event is (of course) to bring together multiphysics enthusiasts, we want to help make the most out of your visit as a whole. Here is your guide to the three major cities the COMSOL Conference 2013 is making stops in.
First Stop: Boston
The COMSOL Conference 2013 world tour kicks off in Newton, MA on October 9-11 — a mere 20 minutes east of Boston. Being very close to the city of Boston, this location is fantastic for tourists. The autumn season makes it even more enjoyable; October typically marks the peak of fall foliage in Boston. Make sure to pack your camera because the trees will be popping with color! Think you may not be able to squeeze in a trip into the city? We've got you covered. This year, we will be taking you into Boston's famous Faneuil Hall Marketplace for a complimentary night out after the first day of the event. We're calling this Explore Boston, and it gives you a chance to enhance your stay by joining fellow attendees for an evening in the city. Transportation will be provided both to and from Boston. If you would like to Explore Boston with us, please check the box "I would like to attend this free outing!" when completing your registration. If you have already registered, but did not sign-up and would like to attend, please email me at kristeno@comsol.com.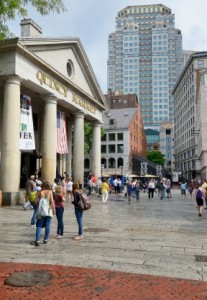 Faneuil Hall, Boston.
If you are able to make a trip into historic Boston for a day or afternoon, there are some must-see spots I recommend you visit. Take a walk in the Boston Common, the starting point of the Freedom Trail and one of the oldest parks in the United States. With over 50 acres, there is plenty of land to explore. For more autumn scenery, walk over to the Boston Public Garden, which sits next to the Boston Common. If you're the museum type, you will want to visit the Museum of Fine Arts or the Museum of Science. There are also plenty of places for shopping, including Newbury Street, Faneuil Hall Marketplace, and Copley Place. You won't go hungry either as restaurants are around every corner. So grab yourself a bowl of Boston's famous clam chowder, enjoy the sites, and have a wicked awesome time while you're at the COMSOL Conference 2013 Boston.
Second Stop: Bangalore
The second stop of the COMSOL Conference 2013 is Bangalore, India on October 17-18. This is a city that is bustling with excitement and breathtaking sights. While at our multiphysics event, take some time to visit the 240 acre Lalbagh Botanical Gardens just south of the city's downtown. Explore history in Tipu Sultan's Summer Palace, or check out the aquatic life at the second largest aquarium in India. Many attractions will keep you busy while in Bangalore, but aside from these, there are also many great restaurants with outstanding cuisine. If you're looking to do some shopping, there are several indoor and outdoor areas to browse. We've loved hosting the user's conference in Bangalore over the years, and the response from our attendees has been great. We hope to see you there in October.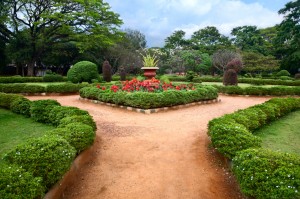 Lalbagh Botanical Gardens.
Third Stop: Rotterdam
The European location for the conference changes yearly, and this year we are pleased to make our third stop in Rotterdam, The Netherlands on October 23-25. In past years we have visited Milan (2012), Stuttgart (2011), and Paris (2010). We are excited to see how having our event in Rotterdam will turn out. If you've never been to this city before, you're in for a treat. It is the type of city that can suit nearly any type of tourist; it's dynamic and trendy, with lots of shopping, art, and culture. If you extend your stay beyond the COMSOL Conference dates, Rotterdam is sure to keep you busy. If you are traveling by car to the conference, you may want to take a drive to Amsterdam, the country's capital. Here you can take a canal boat, go biking through the city, or take in some history at the Van Gogh Museum or Anne Frank House. Since our European event location changes every year, let this be your opportunity to visit Rotterdam.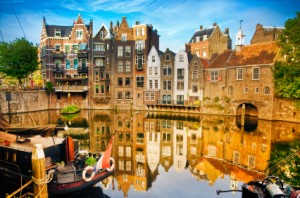 Delfshaven, Rotterdam.
---
---
|
© 2017 by COMSOL Inc.. All rights reserved