COMSOL now Supports the New W5000 and W7000 AMD FirePro™ Graphics Cards
AMD has a new architecture for their graphics cards called Graphics Core Next (GCN). Perfect for compute-intensive applications, the new W-series are optimized and guarantee ultimate performance for visualizing and working with geometries and complex models. COMSOL is proud to announce that we now support the new W5000 and W7000 AMD FirePro™ Graphics Cards. This continues the partnership we have with AMD that I highlighted in a previous blog post about AMD FirePro graphics cards.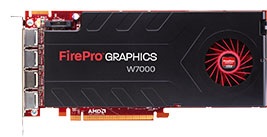 The "W" in W7000 stands for "workstation" and the new series complements the earlier V-series with more memory (4GB GDDR5 @ 154 GB/s) and computational power (2.4 TFLOP single precision and 152 GFLOPs double precision floating point performance). For some time now, COMSOL has been regularly testing a number of the V-series graphics cards. We are pleased to add the two W-series cards to this program.
When asked which card best suits COMSOL Multiphysics, Sr. Strategic Alliance Manager Antoine Reymond replied "a Good-Better-Best solution for COMSOL customers is: AMD FirePro V4900, AMD FirePro W5000, AMD FirePro W7000. The AMD FirePro series offers complete top-to-bottom CAE solutions with industry leading performance, ground-breaking features, and unprecedented visual fidelity for the most demanding users."
---