Fluid Mechanics for Chemical Engineers with Microfluidics and CFD, 2
nd

Edition
James Wilkes
Since most chemical processing applications are conducted either partially or totally in the fluid phase, chemical engineers need a strong understanding of fluid mechanics. Such knowledge is especially valuable for solving problems in the biochemical, chemical, energy, fermentation, materials, mining, petroleum, pharmaceuticals, polymer, and waste-processing industries.
Fluid Mechanics for Chemical Engineers, Second Edition, with Microfluidics and CFD, systematically introduces fluid mechanics from the perspective of the chemical engineer who must understand actual physical behavior and solve real-world problems. Building on a first edition that earned Choice Magazine's Outstanding Academic Title award, this edition has been thoroughly updated to reflect the field's latest advances.
This second edition contains extensive new coverage of both microfluidics and computational fluid dynamics, systematically demonstrating CFD through detailed examples using FlowLab and COMSOL Multiphysics. The chapter on turbulence has been extensively revised to address more complex and realistic challenges, including turbulent mixing and recirculating flows.
Part I offers a clear, succinct, easy-to-follow introduction to macroscopic fluid mechanics, including physical properties; hydrostatics; basic rate laws for mass, energy, and momentum; and the fundamental principles of flow through pumps, pipes, and other equipment. Part II turns to microscopic fluid mechanics, which covers
Differential equations of fluid mechanics
Viscous-flow problems, some including polymer processing
Laplace's equation, irrotational, and porous-media flows
Nearly unidirectional flows, from boundary layers to lubrication, calendering, and thin-film applications
Turbulent flows, showing how the k/e method extends conventional mixing-length theory
Bubble motion, two-phase flow, and fluidization
Non-Newtonian fluids, including inelastic and viscoelastic fluids
Microfluidics and electrokinetic flow effects including electroosmosis, electrophoresis, streaming potentials, and electroosmotic switching
Computational fluid mechanics with FlowLab and COMSOL Multiphysics
Fluid Mechanics for Chemical Engineers, Second Edition, with Microfluidics and CFD, includes 83 completely worked practical examples, several of which involve FlowLab and COMSOL Multiphysics. There are also 330 end-of-chapter problems of varying complexity, including several from the University of Cambridge chemical engineering examinations. The author covers all the material needed for the fluid mechanics portion of the Professional Engineer's examination.
Covering a wide spectrum of chemical engineering problems and disciplines, Introduction to Chemical Engineering Computing is recommended not only for undergraduate and graduate students, but also practicing engineers who are looking to learn how to choose the appropriate computer software program for solving nearly any chemical engineering problem.
About the Author
James Wilkes is a faculty member of the College of Engineering, University of Michigan. He received his bachelor's degree from the University of Cambridge and a master's and Ph.D. from the University of Michigan. He was awarded a King George VI Memorial Fellowship to the University of Michigan, where he has served as department chairman as well as Assistant Dean for Admissions in the College of Engineering. He was named an Arthur F. Thurnau Professor from 1989 to 1992. His co-authorship of previous books includes Applied Numerical Methods (Wiley, 1969) and Digital Computing and Numerical Methods (Wiley, 1973). His research interests are in polymer processing and computational fluid mechanics.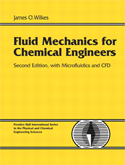 Purchase this book