Welcoming SC Solutions as a COMSOL Certified Consultant
We are happy to announce that SC Solutions, Inc. is now part of the COMSOL family of Certified Consultants!
Located in Sunnyvale, California, SC Solutions (SC) provides modeling and simulation consulting and R&D services to customers across several industries for numerous application areas. As a Certified Consultant, they assist their customers in analyzing and improving on current products and processes by providing them with model-based process control solutions. SC also delivers customized multiphysics models that customers can use for routine in-house simulations.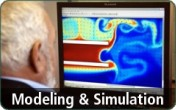 The COMSOL models they develop accommodate cross-disciplinary areas such as heat, chemical kinetics, flow and species transport, electromagnetics, and electrochemical processes applied to various techniques for thin film deposition, thermal systems, and material removal.
Specific applications include:
Rapid Thermal Processing (RTP)
Thermal Stress modeling
Copper Electroplating /Electropolishing
Ceramics Drying (porous media)
Molecular Beam Epitaxy (MBE)
Direct Simulation Monte Carlo (DSMC) transport
Physical Vapor Deposition (PVD): CIGS for Solar Panels, YBCO, RF-diode sputtering (plasma)
Furnaces: Atomic Layer Deposition (ALD), Hot Isostatic Pressing (HIP), High-pressure Oxidation
Chemical Mechanical Polishing (CMP)
Chemical Vapor Deposition (CVD): Epitaxy, MOCVD, Tungsten, Diamond (Arc/Microwave)
RF Inductive Heating
Heat Transfer in Combustion Systems
For further information about the COMSOL Certified Consultant SC Solutions click here.
---