Here's to a Productive New Year: Multiphysics Training Courses
Advancing skills and learning to get the most out of modeling work is on the mind of many of our users. With technology moving at an aggressive rate, it's important to keep up and not fall behind. This is why many long-standing and new COMSOL users are choosing to attend multiphysics training courses. If your New Year's resolution is to become more productive on the job, you should consider registering for our multiphysics Training Courses.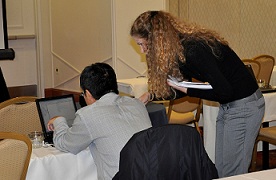 North America — 2013 Training Courses
Whether you want to excel in COMSOL Multiphysics or a specific application, we have training available for you. Our upcoming 2013 Training Courses features our COMSOL Multiphysics Intensive Training course and 13 specialized application specific courses to choose from. Many of our 2-day intensive training courses are followed by a pair of application specific courses. When registering, you can choose to attend one, two or all of the offered courses; whatever is most effective for your modeling needs.
Over the last year we discovered that many of you were especially interested in our Chemical series, first launched in May, 2012. This string of courses included Electrodepositon, Corrosion and Batteries and Fuel Cells courses, and they were very popular. Now I am excited to announce that we are offering more chemical training courses in March, 2013 – with the addition of the all-new Chemical Reaction Engineering course.
Asia & Europe — Multiphysics Training Courses
Through a combination of hands-on activities and traditional lecture taught by our team of expert instructors you can experience multiphysics modeling to its fullest. Our training courses span the globe, so if you're located in Asia or Europe we have courses that may appeal to you as well.
Several introduction and advanced training courses have been added to our Asia schedule. In addition to the introduction and advanced courses, AC/DC Modeling and Heat Transfer are also being offered. Currently, locations include cities in India, but check back as we continue to add courses in more Asian regions.
European training courses are held in various locations throughout Europe. The topics offered include 2-day Intensive Training course and many different application specific courses. These include Fluid Dynamics, Heat Transfer, Acoustics & Vibrations, AC/DC Modeling, Transport Phenomena & Chemical Reactions, Structural Mechanics, and more.
I would like to invite you to take a look at the multiphysics Training Courses we are offering for 2013. As the new year is beginning to unfold, consider registering to partake in one of the many training opportunities we present you with around the world. We hope to see you in 2013!
---