Now Online: COMSOL Multiphysics version 4.3a Release Highlights
Today marks not only the first day of October, but also the release of COMSOL Multiphysics version 4.3a. Four new products and 50+ updates are reason to get excited over this brand new version of COMSOL. Go ahead, find out what's coming your way in multiphysics modeling.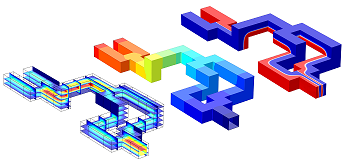 4 New Products in COMSOL Multiphysics version 4.3a
With COMSOL 4.3a we welcome four additional Modules to the COMSOL family. Three of these expand our offering of interfacing tools, and the fourth is an expansion of the Mechanical Module line-up.
New products in COMSOL 4.3a:
LiveLink™ for Excel®
ECAD Import Module
LiveLink™ for Solid Edge®
Fatigue Module
Major Updates
We have also added plenty of new features and functionalities to existing Modules and tools. Some of the biggest updates include cloud computing capabilities, shape optimization, efficient CFD solvers, and faster multicore and cluster computing.
Check out the COMSOL 4.3a Release Highlights page for more details and videos on what's new in this release. We will also continue to blog about 4.3a, so stay tuned!
---