Free Webinar Introducing the Mixer Module Next Month
Mixers with rotating components are essential in many industrial applications, including food production, manufacturing chemicals, pharmaceuticals, and other consumer products. While the industrial processes of mixers differ, product requirements like quality, reproducibility, and uniformity must remain constant. Using the Mixer Module is one way you can make sure these product requirements are met. In our upcoming webinar, you'll learn how the fluid flow interfaces available in the Mixer Module allow you to streamline the design of mixers and their mechanisms.
Geared for a Host of Mixing Applications
It is of great importance that mixer designs are optimized relative to their application areas. Optimized designs help ensure efficiency in production, and reproducible compositions that adhere to strict industry standards. With the Mixer Module, you can design mixers for a variety of distinctive applications. Some of the many types of mixers that can be modeled are found in the food and chemical industries, for liquid blending and emulsions; industrial applications, like manufacturing paints and adhesives; as well as for pharmaceutical applications. No matter the application area, you can use the Mixer Module to predict things like composition and temperature distribution in mixers as well as power losses and flow in rotating machinery.
Laminar, Turbulent, Non-Isothermal, and Reacting Flows
The Mixer Module contains a series of robust, built-in physics interfaces that grant you the ability to perform advanced simulations of fluid flows affected by rotating machinery. The physics interfaces are based on the laws of the conservation of momentum, mass, and energy as well as species material balances, and allow you to design and optimize mixers, stirred tanks, and tank reactors. Some of the flows you can model include laminar, turbulent, non-isothermal, and reacting flows.
The Laminar Flow interface allows you to model mixing flows of low to intermediate Reynolds numbers by solving the Navier-Stokes equations. You can model turbulent flows with multiple interfaces that solve the Reynolds-averaged Navier-Stokes (RANS) equations for the averaged velocity and pressure fields in flows. Additionally, non-isothermal flow interfaces are provided when you need to model fluids that are affected by temperature gradients that result in non-isothermal and buoyancy-driven flows.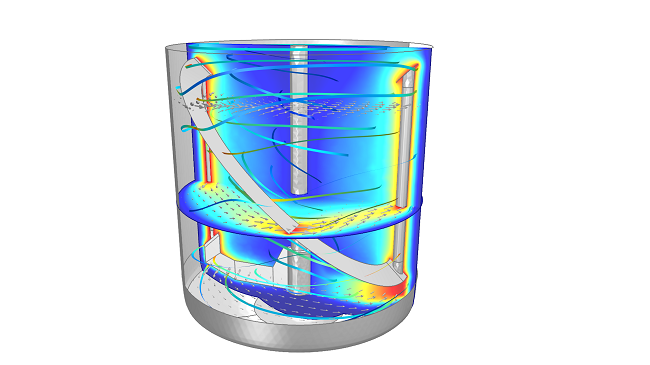 A non-isothermal mixing model of a fluid that is mixed and heated using the Rotating Machinery, Non-isothermal interface.
Also available is the Reaction Flow interface, which supports density and composition variations in flows due to chemical reactions. The physics interfaces available in this add-on product allow you to simulate time-dependent models in both 2D and 3D.
Register for the Introduction to the Mixer Module Webinar
If you're interested in learning more about how you can use the Mixer Module to model various types of flows to optimize your mixer designs, register for our upcoming Introduction to the Mixer Module webinar. On February 6th, my colleague, Mats Nigam will demonstrate how the Mixer Module can improve the design and efficiency of mixers. The February 6th presentation will be held at a time convenient for audiences in the Americas and Europe. If you are located in Asia, tune into the live webinar on February 26th instead to hear my colleague Mahesh Kadam present. Per usual, the webinar will include a demonstration for building a mixer simulation, and conclude with a Q&A session.
---