Brand New: COMSOL Multiphysics 4.3b Product Booklet
It's been a busy and exciting past few weeks here at COMSOL, with the recent release of COMSOL Multiphysics 4.3b and all the updates it entails. We have been working on quite a bit of release-related content, including creating videos about the capabilities added to the COMSOL family, making updates to the Introduction to COMSOL Multiphysics tutorial, and generating many new simulations using the new features and modules. In the same vein, we've also been working to put together the new edition of the Product Booklet, which showcases some of the most exciting additions to the product suite, new solvers and features, and some of the new models that have been added to the Model Gallery.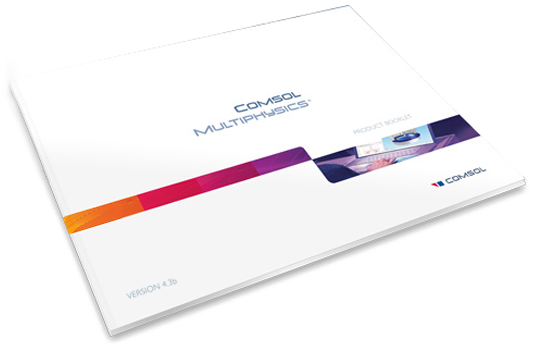 Exploring the Product Booklet and Expanded Product Suite
The Product Booklet is a great resource for both new and expert COMSOL users alike. For those of you who are just getting started with COMSOL and the multiphysics approach, the Product Booklet provides an explanation of what multiphysics modeling encompasses, and why it's such a powerful simulation method. For those already familiar with COMSOL, the booklet offers a quick overview of the available modules, and allows you to keep up-to-date on new expansions of the software, and find descriptions of all the physics that can be combined and coupled within COMSOL Multiphysics.
When you flip through the booklet, you'll come across a page showing the product suite. Check out what's been added within your application area:
There are five new modules in total; the Wave Optics Module, the Semiconductor Module, the Multibody Dynamics Module, the Molecular Flow Module, and the Electrochemistry Module. The Product Booklet is a great resource to learn more about each of these. Within, you'll find a description of the new module, a summary of its most important features and solvers, and — one of the things that I find most exciting — some of the new models available in the Model Gallery from each application area.
Capabilities, Features, and Solvers in COMSOL Modules
You can learn about the capabilities, features, and solvers of each and every one of 38 add-on products available with COMSOL Multiphysics. Whether you're interested in modeling Li-ion batteries with the Batteries & Fuel Cell Module, or exploring laminar and turbulent flow in a ventilation system using the CFD Module, the Product Booklet covers it all.


Overview of the Wave Optics Module on pages 24 and 25 of the Product Booklet.
Learn More About COMSOL Capabilities in Your Application Area
---