Chemical Reaction Engineering Module
Chemical Reaction Engineering Module
Per modellare i bilanci di massa ed energia e le reazioni chimiche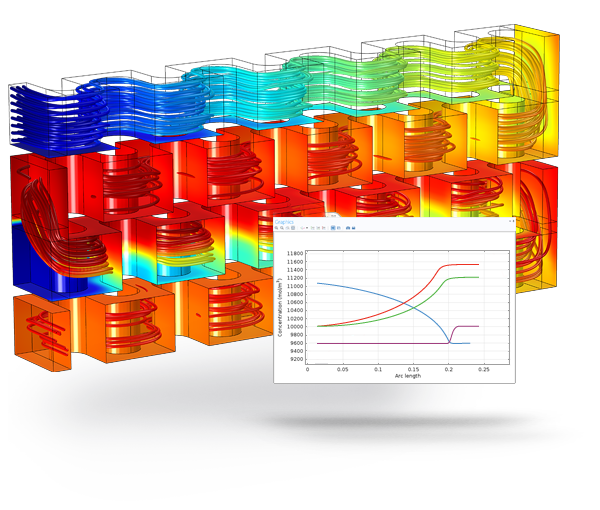 Modello di un reattore chimico: le sostanze chimiche reagenti sono introdotte attraverso due ingressi nel reattore.
Perfetto per tutte le attività nei settori della chimica e dei processi
Ottimizzare reattori chimici, impianti di filtrazione, miscelatori e altri processi è reso più semplice grazie al Chemical Reaction Engineering Module. Questo modulo offre tutti gli strumenti per simulare il trasporto di massa e il trasferimento termico unitamente alla cinetica chimica in ogni tipo di ambiente - flusso di gas, liquidi, mezzi porosi, sulle superfici e all'interno di fasi solide - o loro combinazioni. Per questo è lo strumento ideale per tutti i tipi di applicazioni nei settori della chimica e dei processi, ma anche nell'ingegneria per l'ambiente, dove "unità di processo" o "reattore chimico" può essere considerato l'ambiente circostante.
Convezione e diffusione con cinetica chimica arbitraria
Il Chemical Reaction Engineering Module offre interfacce utente intuitive per definire il trasporto di massa in miscele o soluzioni diluite e concentrate per convezione, diffusione e migrazione ionica. Gestisce inoltre un numero arbitrario di specie chimiche. Queste possono essere collegate facilmente alle definizioni della cinetica di una reazione reversibile, irreversibile o di equilibrio descrivibili dall'equazione di Arrhenius o da qualsiasi legge sulla velocità di reazione. Nei rate di reazione è possibile includere gli effetti della concentrazione e della temperatura. L'interfaccia per definire le reazioni chimiche è intuitiva e consente di inserire le formule chimiche e le equazioni sostanzialmente come si farebbe con carta e penna. COMSOL imposta le espressioni di reazione appropriate applicando la legge di azione di massa, che si può modificare specificando espressioni cinetiche proprie. La stechiometria nelle formule di reazione viene utilizzata per definire automaticamente i bilanci di massa ed energia, siano essi omogenei o eterogenei, che si verificano nel fluido circostante o sulle superfici.
Altre immagini:
Livelli di concentrazione nel tempo in un reattore CSTR per la produzione di ibuprofene.
Utilizzando il modello di un reattore PFR, le concentrazioni delle specie chimiche lungo un reattore catalitico packed bed sono simulate postulando condizioni eterogenee e cinetica specificate dall'utente.
Isosuperfici di concentrazione in un reattore monolitico 3D.
Fenomeni di trasporto completi
Il Chemical Reaction Engineering Module offre gli strumenti per calcolare le proprietà termodinamiche, eventualmente importando dati da sorgenti esterne, al fine di rendere il più completo possibile l'accoppiamento del trasporto di calore e dei bilanci entalpici al trasporto di massa e alle reazioni chimiche. Sono inoltre disponibili interfacce utente per definire il trasporto della quantità di moto, al fine di esaminare la fluidodinamica e la descrizione completa dei fenomeni di trasporto del processo in studio. Ciò include interfacce per flusso laminare e in mezzi porosi tramite soluzione dalle equazioni di Navier-Stokes, dalla legge di Darcy e dalle equazioni di Brinkman. Abbinando il CFD Module o l'Heat Transfer Module alla modellazione, si potranno anche incorporare il flusso turbolento, il flusso multifase e il flusso non isotermo, così come la trasmissione del calore per irraggiamento.
Parte integrante nell'ottimizzazione dei processi di reazione chimica
Il Chemical Reaction Engineering Module è utile a ingegneri e scienziati nei settori chimico, dei processi, energia elettrica, farmaceutico, polimeri e alimentare dove il trasporto di massa e la reazione chimica sono parte integrante del processo in studio. Esso offre gli strumenti per studiare tutti gli aspetti di queste applicazioni: dagli studi in provetta di un laboratorio, alla revisione di un reattore chimico in uno stabilimento. La cinetica chimica può essere simulata intrinsecamente in ambienti controllati, per descriverla con precisione utilizzando le funzionalità incorporate per la stima dei parametri e il loro confronto con i dati sperimentali. Partendo da questa base, il Chemical Reaction Engineering Module propone diversi tipi di reattori, predefiniti per studi più complessi,
Reattori batch (perfettamente miscelati) e semibatch
Reattori a serbatoio agitato in continuo (CSTR)
Reattori con flusso a pistone (PFR)
tutti dotati delle definizioni appropriate di masse o volumi costanti, così come delle condizioni isoterme, non isoterme o adiabatiche. Ideali per incorporare la cinetica ottimizzata in un ambiente di processo, questi modelli semplici offrono una comprensione più approfondita del sistema e consentono di simulare diverse condizioni operative. Alla luce delle conoscenze acquisite, la fase successiva sarà quella di ottimizzare il progetto del sistema e affinare le condizioni operative mediante un modello 2D assialsimmetrico o un modello 3D. La funzionalità per la generazione di modello dipendente dallo spazio consente di incorporare completamente i bilanci di massa ed energia del sistema, al flusso del fluido e alla velocità di reazione chimica.
Chemical Reaction Engineering Module
Product Features
Mass transfer in dilute and concentrated solution and mixtures
Material transport through diffusion, convection and ionic transport
Laminar and porous media flow
Hagen-Poiseuille equation
Navier-Stokes Equations, Darcy's Law and the Brinkman Equations
Diffusion and boundary layers
Reacting flow
Mass transfer in concentrated solutions
Multicomponent mass transport and gas diffusion
Multicomponent diffusivity, thermal diffusion and the Soret effect
Fickian, Maxwell-Stefan, and Mixture-averaged transport
Surface diffusions and reactions
Adsorption, absorption and deposition of species at surfaces
Ionic migration through the Nernst-Planck Equations
Species transport and heat transfer in porous media
Bruggeman mass transport parameters
Arrhenius model
Unconditional number of chemical species in arbitrary definitions of chemical reaction kinetics
CHEMKIN® file import
Interface to CAPE-OPEN thermodynamics
---
Application Areas
Batch and high-pressure reactors
Bioreactors and fermenters
Biochemistry, biochemical engineering and food science
Chemical reactor design, sizing and optimization
Chromatography
Continuous reactors and CSTRs
Separators, scrubbers, crystallizers and leaching unit operations
Electrochemcial Engineering
Osmosis, electrophoresis and electroosmosis
Exhaust after-treatment and emission control
Filtration and sedimentation
Homogeneous and Heteregenous Catalysis
Selective catalytic reduction and SCR catalysts
Microfluidics and lab-on-chip devices
Monolithic reactors and catalytic converters
Multicomponent and membrane transport
Packed bed reactors
Pharmaceutical synthesis
Plug-flow reactor design and tubular reactors
Polymerization kinetics and manufacture
Pre-burners and internal combustion engines
Hydrogen Reformers
Semiconductor processing and CVD
---
Material Databases
| File Format | Extension | Read | Write |
| --- | --- | --- | --- |
| CHEMKIN | .dat, .txt, .inp3 | Sì | No |
| CAPE-OPEN1 (direct connection) | n/a | n/a | n/a |
| LXCAT file2 | .lxcat, .txt | Sì | No |
1 Requires Chemical Reaction Engineering Module
2 Requires Plasma Module
3 Any file format is allowed, these are the most common extensions

---
Data Resources:
Downloadable Mechanism, Thermodynamic and Transport Files
Modeling Chemical Applications
The application of modeling to chemical engineering is a cost-efficient way to explore new designs of systems and processes. COMSOL has been developing its capabilities with the chemical processes and engineering for over 10 years now. By using modeling, the engineer can achieve the understanding and intuition required for further innovation, and increase efficiency. A main feature of COMSOL is the symbolic and interpreted interfaces that allows you to define whatever you like, such as chemical and electrochemical reactions, or kinetic, thermodynamic, or transport expressions.
Chemical Reaction Engineering Module
Modeling the Electrochemistry of Blood Glucose Test Strips
Stephen Mackintosh
Lifescan Scotland
UK
Lifescan Scotland is a medical device company that designs and manufactures blood glucose monitoring kits for the global diabetes market. These involve the self-monitoring of blood glucose levels through specialized monitoring systems and test strips that comprise of a plastic substrate, two carbon-based electrodes, a thin dry reagent layer, and a ...
Modeling the Electrochemistry of Blood Glucose Test Strips
Modeling the Electrochemistry of Blood Glucose Test Strips
Stephen Mackintosh Lifescan Scotland UK
Lifescan Scotland is a medical device company that designs and manufactures blood glucose monitoring kits for the global diabetes market. These involve the self-monitoring of blood glucose levels through specialized monitoring systems and test strips that comprise of a plastic substrate, two carbon-based electrodes, a thin dry reagent layer, and a ...
Chemical Reaction Engineering Module
Porous Reactor with Injection Needle
This model treats the flow field and species distribution in an experimental reactor for studies of heterogeneous catalysis. The model exemplifies the coupling of free and porous media flow in fixed bed reactors. The reactor consists of a tubular structure with an injection tube that has its main axis perpendicular to the axis of the reactor. ...
Surface Reactions in a Biosensor
A flow cell in a biosensor contains an array of micropillars. The curved side of the pillars are coated with an active material that allows for the selective adsorption of analyte species in the sample stream. The adsorbed species produce a signal that is dependent upon the local concentration at the pillar surfaces. This example investigates the ...
Free Convection in Porous Medium
This example treats the modeling of sub-surface flow where free convection in porous media is analyzed. The results are compared with published literature in the field. The model couples the momentum balance to an energy balance through an equation, dependent on temperature, being directly typed into the source term for the momentum balance. ...
Chemical Vapor Deposition of GaAs
Chemical vapor deposition (CVD) allows a thin film to be grown on a substrate through molecules and molecular fragments adsorbing and reacting on a surface. This example illustrates the modeling of such a CVD reactor where triethyl-gallium first decomposes, and the reaction products along with arsine (AsH3) adsorb and react on a substrate to form ...
Thermal Decomposition
In this tutorial model, couple heat and mass transport equations to laminar flow in order to model exothermic reactions in parallel plate reactor. It exemplifies how COMSOL Multiphysics allows you to systematically set up and solve increasingly sophisticated models using predefined physics interfaces.
Heat Transfer and Steam Reforming in a Reactor
In fuel cell power generators, a steam reformer unit typically produces the hydrogen needed for the cell stack. This example illustrates the modeling of a steam reformer. The reformation chemistry occurs in a porous catalytic bed where energy is supplied through heating tubes to drive the endothermal reaction system. The reactor is enclosed in ...
Current Density Distribution in a Solid Oxide Fuel Cell, AC Impedance Study
This model presents a study of the current density distribution in a solid oxide fuel cell (SOFC). The model includes the full coupling between the mass balances at the anode and cathode, the momentum balances in the gas channels, the gas flow in the porous electrodes, the balance of the ionic current carried by the oxide ion, and a balance of ...
Separation Through Dialysis
Dialysis is frequently used membrane separation process. An important application is hemodialysis, where membranes are used as artificial kidneys for people suffering from renal failure. Other applications include the recovery of caustic colloidal hemicellulose during viscose manufacturing, and the removal of alcohol from beer. In the dialysis ...
NOx Reduction in a Monolithic Reactor
This suite of examples illustrate the modeling of selective NO reduction, that occurs as flue gases pass through the channels of a monolithic reactor in the exhaust system of a motored vehicle. The simulations are aimed at finding the optimal dosing of NH3, the reactant that serves as reducing agent in the process. Three different analyses are ...
Electrokinetic Valve
This model presents an example of pressure driven flow and electrophoresis in a 3D micro channel system. Researchers often use a device similar to the one in this model as an electrokinetic sample injector in biochips to obtain well-defined sample volumes of dissociated acids and salts and to transport these volumes. Focusing is obtained through ...
Porous Reactor with Injection Needle
Surface Reactions in a Biosensor
Free Convection in Porous Medium
Chemical Vapor Deposition of GaAs
Thermal Decomposition
Heat Transfer and Steam Reforming in a Reactor
Current Density Distribution in a Solid Oxide Fuel Cell, AC Impedance Study
Separation Through Dialysis
NOx Reduction in a Monolithic Reactor
Electrokinetic Valve